Pillsbury's New Strawberry Cheesecake Cookies Are Here To Save 2019
by Julie Scagell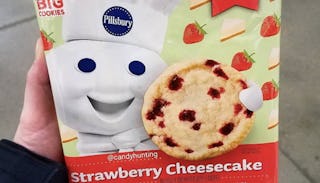 Image via Candyhunting/Instagram
The fans have spoken and it's strawberry cheesecake for everyone
Welp, so much for those health-focused New Year's resolutions. Pillsbury just dropped a new Ready to Bake flavor that's guaranteed to make your taste buds scream — announcing Strawberry Cheesecake cookies.
Pillsbury's trademark Ready to Bake cookies have always been a fan favorite. They're perfectly portioned, already prepared dough that you can whip up in a jiffy when your kids (ahem, you) need a sweet treat. But these puppies are coming in hot with only 12 to a pack instead of their standard 24, which means they'll be more of them (and eventually you) to love.
When my husband and I were first dating, I surprised him with "homemade" cookies. When he saw me rip open the Pillsbury package I think he nearly fell on the floor from laughter. Unfortunately, he'd failed to mention his mom was an expert baker who used to travel around the world giving baking demonstrations. Well, good for her.
The food service giant has always had us covered for holidays with their pumpkin, Christmas tree, and turkey Ready to Bakes. And now it seems they're hitting the mark right in time for Valentine's Day with these cheesecake-flavored sugar cookies featuring giant strawberry chunks.
Apparently, Pillsbury surveyed its followers with a Facebook poll to determine which flavor would be their next Ready to Bake winner and strawberry cheesecake floated to the top of the pile. We will forever be indebted to all those who participated in this very important survey.
Pillsbury had us covered in Valentine's Day past with their signature sugar cookie with hearts, but this new variety promises to pack an even bigger flavor punch during a time of the year we are all having post-holiday withdrawals, which makes us love them just a little bit more.
The best part? You can pick one (or ten) packs at any of your local favorites like Target, Walmart, and Hy-Vee for only $5 for a two-pack. That's 24 giant cheesecake-flavored bundles of joy for not much more than a gallon of milk. But you may want to grab one of those as well because I think dipping them in milk may just take this entire experience over the edge.