Pineapple Christmas Trees Are The Hot Holiday Trend We Can All Get Behind
by Valerie Williams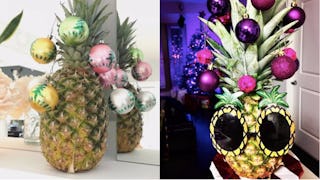 Image via Instagram
Pineapple Christmas trees are one of 2017's hottest holiday trends
Millions of families are honoring the yearly tradition of either hauling a musty, fake, Christmas tree out of the attic, or trekking into the wilderness to chop down a real one before spending hours festooning it with lights and decorations. It can be a lot of fun, but it's also a lot of work.
That's why this holiday season, we're totally feeling the idea of just decorating a pineapple. Because, fuck it.
This time of year means moving Elves, baking cookies, buying presents, wrapping presents, going to parties, and wishing you'd bought more wine, and on top of that, decorating an entire tree. For those of us running out of time, good news! Pineapple Christmas trees are very on-trend this year, and the internet has no shortage of easy and fun decor ideas.
You could go vacation-y if you'll be traveling this year and won't have a chance to do a real tree.
https://www.instagram.com/p/BbFhKRmlTK0/
Or you can make it extremely glam. This is the beauty of it, the only limit is your own creativity.
https://www.instagram.com/p/BbRa0opnK8X/
According to Delish, searches for "pineapple Christmas trees" are up more than 3,406 percent in 2017 as compared to last year. And we can't really find a reason to hate on that fact.
https://www.instagram.com/p/BbNJKrCHYYf/
After all, pineapples are sturdy, sweet-smelling, compact, a fun shape, and super cheap. You could literally put one in each room of your home for less than the price of an actual tree — and with about one-millionth the level of mess and aggravation.
https://www.instagram.com/p/BcI-1L3FQhQ/?tagged=christmaspineapple
It's the perfect answer to decorating your office or cubicle without a lot of fuss.
https://www.instagram.com/p/BcKs41-F6MG/?tagged=christmaspineapple
And honestly, they just make for a lovely and elegant silhouette.
https://www.instagram.com/p/BcGKaytlCOv/?tagged=christmaspineapple
They really are surprisingly pretty when all dolled up — and portable AF.
But no matter how creative we get, let's not forget who originated this idea in the first place — good old SpongeBob. He literally lives in one, you guys.
The best part of this plan is once the holidays are over (or January 22nd like I usually seem to do, shut up, only God can judge me) there's no pulling it apart and stuffing it in a broken-down box until near year. Or dragging its withered carcass out to the side of the road until brush pick-up whisks it away. You can either toss it in the kitchen trash or chop it up to feed to your kids as a healthy snack, which they can outright reject. As usual.
When life gives you pineapples, make a pineapple tree. You won't regret it.