How I Became Obsessed With Ping-Pong (Yes, Really)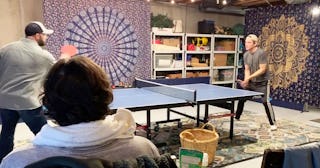 Courtesy of Kevin Mccormick
As a parent of three young kids, a lot of my schedule is dictated by their sports and activities. Just about every day there is some combination of practices and games for soccer, swimming, dance, and basketball. Ironically, as their social lives and athletic skills increase, mine have been on a bit of a downward trend for some time.
Maybe that's why my enthusiasm for playing in weekly pickup-games of basketball started waning a few years ago, until I recently stopped playing altogether.
When you're over 40, jumping into a full-court game isn't as easy as it used to be, and the risk of injury is a lot higher. Plus, the next morning usually involves groaning, Motrin, and limping around the house.
So, where could I find competition and camaraderie without fear of tearing my Achilles?
Ping-Pong, apparently. Here's how it all started:
About a year ago, my wife's friend invited our family over for the evening. At dinner, her husband, Evan, mentioned that he was an avid Ping-Pong player, but didn't get to play as much as he'd like. I immediately remembered the countless Ping-Pong battles my brother and I fought on the table in our basement growing up. Filled with nostalgia and a spark of excitement, I told him that I'd be up for hitting the ball around after dinner.
So, we started to volley. At first, I had trouble keeping the ball on the table, but it wasn't long until we fell into a rhythm.
Ping… pong… ping… pong…
I was quickly reminded of how captivating the game is, and how I love that hypnotic, measured sound of the ball.
Ping… pong… ping… pong…
After volleying for a while, I could feel my brain elevate into a highly-alert, reflexive state. I wasn't thinking about making small-talk, what my kids needed, or my frustration with work. As I watched the ball, I was totally present in the moment, mindful of its every bounce.
Ping… pong… ping… pong…
I hadn't played in over 20 years, but I could feel some of the rust falling off.
Then, as I gained confidence, I went outside my comfort zone, and started experimenting with some different types of spin. The more I played, the more eager my brain seemed to learn. It was calculating, calibrating, and making synapses to improve. I'm pretty sure it was bribing me with serotonin so that I would keep playing.
An hour or two went by, and our Zen state was interrupted when our rowdy gang of kids descended into the basement and relayed the message that it was almost time to go.
Wow… that was really fun!
Even though I was outmatched, I began to see a roadmap for improving my game. I wanted to learn and get better. More importantly, I knew I may have found a diversion that would fill the athletic and social void in my life.
Evan mentioned in parting that I could text him if I ever wanted to come over and play again, and it wasn't long until I did.
We played a couple of weeks later, and it was just as enjoyable. Soon, we began playing regularly. I started losing by fewer points, and as I improved, the sport became even more fun and rewarding.
My simple "pushes" over the net became more advanced "forehand loops" and "backhand chops." My serves were better, and I began to anticipate where the ball was going to be hit next. With every failure I was learning, and that was gratifying.
In the process, something in my brain felt like it was lighting up. I even started winning a few games!
Patience, young grasshopper.
It was at that point that my excitement turned into to a bit of an obsession, and I was motivated to turn our unfinished basement into a Ping-Pong utopia.
First, my wife and I spent weeks decluttering the basement. Loads of junk started leaving the house, including furniture, toys, boxes of books, and clothing. We put items on the curb and watched from the window with childish delight as cars stopped to take them. We filled our minivan with unwanted belongings and drove to the local thrift store several times to offload them.
If you build it, they will come.
When the basement was almost empty, I began the arduous task of sealing and painting its expansive concrete floor. Upon completion, I proceeded to install overhead lighting, purchase area rugs, and hang tapestries.
After reading countless online reviews, I ordered a first-rate Ping-Pong table, paddles, barriers, and professional "4-star" balls. When the table arrived, I eagerly assembled it, and then arranged some unused barstools around it for potential spectators.
Now that I had a proper home court to play on, I needed opponents. I put the word out, and luckily it wasn't long before other dads started dropping by occasionally to play. Their guarded curiosity turned to enthusiasm, and soon they began arriving with brand-new paddles of their own.
Our initial sporadic gatherings have recently evolved into more organized, recurrent assemblies. Now, about a half-dozen of us partake in weekly Sunday morning "pong" sessions in "the dojo." It all goes down something like this:
Hip hop music thumps a steady beat. (Alexa, play Notorious B.I.G. radio!) There's an oversized wicker basket of ping pong balls on the floor, a round-robin bracket taped to the wall, and a stack of hand towels (for sweat)by the table.
Although there's a football game flickering on the muted TV in the background, few people pay attention. Instead, they're likely engrossed in the contentious match unfolding before them, as two middle-aged men battle at Ping-Pong like a couple of amateur kung-fu fighters.
An occasional plume of smoke rises from the beguiled spectators, and drifts lazily upwards. Illuminated by the the warm glow of string lights, the thin haze slowly dissipates into the wooden rafters as the ball caroms rhythmically below.
Ping… pong… ping… pong…
Although no one likes to lose, we all appreciate the sublime satisfaction of a great volley much more than winning a quick point. In fact, spectacular rallies draw loud cheers from onlookers, and might even inspire a high-five between opponents.
In the sport of Ping-Pong, we've discovered Zen moments of "touching the universe," and it's addictive.
When the games are finished, we retreat upstairs to grill burgers, fry bacon, bake tots, and drink beer. When the food is ready, we gather around in the kitchen like tribal warriors who've returned victorious from a great battle, and we feast. "Damn, this is a good burger!… Did you guys try the sweet chili bacon jam?"
After everyone has finished eating the music stops, and the dads disperse and return to their familial obligations.
"I gotta say it was a good day." – Ice Cube
However, thoughts of Ping-Pong don't end there. In fact, we have an ongoing text chain centered around the sport, and share "pong porn," including match highlights from YouTube.
I don't know exactly what it is about Ping-Pong, but it makes me happy. Apparently, I'm far from alone in this regard, as millions of others seem to share my passion for the sport. Ping-Pong has a unique quality that encourages people from diverse backgrounds to bond instantly over a table, anywhere in the world. Plus, besides being a great social outlet, it's also amazing exercise for your body and brain.
So, I'm pleased to tell you that pong is a highlight of my mid-life.
Maybe you should give it a try, too?
This article was originally published on