Pink Surprises Everyone With Pregnancy News Via Gorgeous Bump Photo
by Sarah Hosseini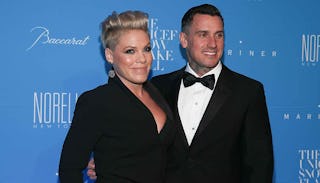 Image via Rob Kim/Getty Images
Pink poses with her daughter to tell the world she's pregnant with baby number two.
Pink announced she's pregnant with her second child on social media this weekend and the photo is stunning.
Pink looks ethereal and serene in her baby announcement Instagram post. She and 5-year old-daughter Willow Sage are wearing white ensembles and hats with the wind blowing through their hair. Pink's expression is calm as she holds her bump gazing off into the distance. OMG swooning. Major goddess vibes.
The caption is simply, "Surprise!" This is Pink's second child with husband Carey Hart, a former motocross racer. The two have been married since 2006. Earlier this year, Pink opened up on the Ellen DeGeneres show about the couple's life together. Pink said she and Hart had two "breaks" before Willow was born (which, um, raise your hand if your marriage is perfect…right, didn't think so) and that their romantic nights often get derailed because Hart falls asleep cuddling with little Willow at bedtime. So relatable. Pink added that he's an "incredible dad."
Pink is also a proud nursing mama and has been very vocal about breastfeeding awareness. She posted this picture on Instagram in honor of National Breastfeeding Week back in August with the caption, " I proudly post this photo of a very HEALTHY, NATURAL act between mother and child."
According to TODAY, the singer once breastfed Willow live on the radio while doing an interview with Ryan Seacrest. She's gone on the record before talking about an altercation she had with a person that made a remark to her while she nursed in public. We don't know if she will breastfeed her second child or not, but whatever she chooses, we can assume she'll be very vocal about it.
"I love being a mama. I made a choice a long time ago that I was going to have a successful family and that is my absolute No. 1 goal in life," said the singer, during an appearance on Good Morning America earlier this year.
Aw, congrats mama!
No word yet on how far along Pink is or when the baby is due.
This article was originally published on