Pink Shares Sweet Photo To Help Normalize Breastfeeding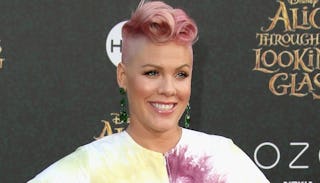 Image via Frederick M. Brown/Getty Images
Pink says she's "proudly" sharing this image of herself nursing
It's National Breastfeeding month, and in the spirit of the season, many moms are posting photos of themselves on social media nursing their little ones. Among their ranks is pop star Pink, who joined in the fun this week with an adorable photo of herself breastfeeding her daughter.
Eternal "cool mom" Pink, who recently threw now 5-year-old daughter Willow a Matt Damon-themed birthday party, is being cool once again sharing her support for other nursing mothers in a sweet Instagram snap.
The singer writes, "In honor of #nationalbreastfeedingweek2016 I proudly post this photo of a very HEALTHY, NATURAL act between mother and child. Taken in Helsinki by a very supportive and proud Papa."
In those two sentences, Pink says a lot. She reminds the world that breastfeeding is healthy and natural, which apparently still needs to be said, judging by the terrible stories of nursing moms being shamed for doing it in public that we see almost daily.
She also says she's "proudly" sharing the image, which is an important word. Some breastfeeding moms feel the need to conceal the act of nursing their baby or not openly discuss it, for fear of judgment. This especially goes for moms breastfeeding into the toddler years, when people in her life might tell her she should "stop." It's not enough that a nursing mom feels she's tolerated for what she's doing — she should feel proud. And those she's close with should be proud of her.
Speaking of proud, Pink then gives props to husband, motorcycle racer Carey Hart, saying he was "supportive and proud." As any breastfeeding mom knows, the support of a partner is crucial during the more difficult moments in nursing. Having that extra encouragement can make all the difference in a society where breastfeeding moms are at times met with resistance from those who believe they should hide to feed their child. When a nursing mom has a partner backing her, it can go a long way toward maintaining a healthy breastfeeding relationship.
Pink sharing this image and adding one more voice of support for nursing moms is amazing. Some may say we don't need to see these photos, but until breastfeeding moms can feed their children wherever they please without being told to leave or cover up, we will take all the help we can get. Even though it's absolutely normal, it still needs to be normalized.