Pink Reminds Trolls How F*cking Hard Moms Work ALL THE TIME
by Valerie Williams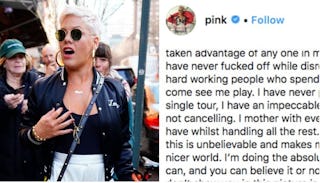 Image via Lee/Stewart/Gotham/Getty Images/Instagram/Pink
Pink defends herself after trolls suggest she's faking sick to get out of performing
Pink announced that she would have to postpone her show tonight in Sydney, Australia due to illness. Instead of being respectful of the notoriously hardworking performer, the paparazzi caught pics of her on the beach with her daughter, insinuating that she was canceling her show to relax. Pink's response is so on-point and also outlines exactly how hard it is for moms to achieve the almighty work-life balance we're all after.
The pop star and mom of two took to Instagram to address a completely garbage headline. "I don't need to clear this up, but out of respect for my fans I will attempt it. I scheduled this tour meticulously, trying to do what was best for my children, while also putting on the best and most physically demanding and beautiful show of my life," she writes.
But like all things involving small kids, even the best-laid plans don't always pan out as expected. She explains that the break she was on in Byron was always scheduled in order to have some quality time with her kids — what she didn't schedule was an illness serious enough to sideline her. "I've already been sick twice (kids as well) on this Australian tour, but the first time we got sick, I was able to push through," she says. "This time, what these parasite paparazzi don't show you, is two doctor visits in Byron on two consecutive days, antibiotics, steroids, Vick's, nose spray, throat spray, more steroids, NyQuil, a screaming baby in the middle of the night, every night, while mama gives him warm baths and tells her daughter everything is fine."
Sound familiar, moms? We might not have sell-out crowds awaiting us at our jobs, but how many times have we had to power through because of work and kids depending on us in equal parts, no break in sight? Pink might have millions, but she's still a working mom just doing her best. And kids are still little petrie dishes that make us sick pretty much constantly the first five years of their lives.
Then, she brings it home.
"I have never fucked off while disrespecting hard working people who spend money to come see me play. I have never phoned in a single tour, I have an impeccable record for not cancelling," she writes. It's honestly ridiculous she feels she has to defend herself. Anyone who follows her social media accounts knows how hard she works.
"I mother with everything I have whilst handling all the rest. The snark in this is unbelievable and makes me long for a nicer world. I'm doing the absolute best I can, and you can believe it or not."
Mic. Drop.
This article was originally published on