Pink And Carey Hart Have Been In Marriage Counseling For Almost 17 Years
by Cassandra Stone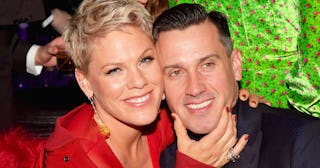 Lester Cohen / Getty
Pink is opening up about mental health, the benefits of therapy, and her marriage
Pink makes no qualms about keeping things real with her fans about her life, no matter how famous she is. In a new interview, the singer, wife, and mom is opening up about mental health and the important role counseling has played in her marriage.
During a sit-down with Carson Daly for the TODAY show, Pink says "talking about it" is the "most important thing" when it comes to mental health. She also reveals that she and her husband of 13 years, Carey Hart, have been in couples counseling for nearly 17 years.
"Carey and I have been in couples counseling almost our entire 17 years that we've been together," she said candidly. She credits counseling for keeping them together. The two parents of Willow Sage and Jameson Moon recently celebrated another wedding anniversary together, but they've had their ups and downs like anyone else. Back in 2008, the couple announced their separation — which led to Pink's badass Funhouse album — though they reconciled a year later.
"It's the only reason we're still together," she tells Daly. "He speaks Polish, I speak Italian, and she speaks both. We don't speak the same language. We come from broken families, and we had no model for: How are we supposed to keep this family together and live this crazy life? And there's no book that says, 'Here's how to do this.' So we go to counseling, and it works."
She also discussed her own experiences with anxiety and depression, and her tendency to "overthink things" in her own life. "What I do is I keep the right people around me, and I go to therapy," she says.
It's honestly amazing that she's talking so frankly about mental health, given how many fans (especially young ones) she has that may be struggling or need to hear someone like Pink discuss their own issues honestly and openly.
Personally, I talk about therapy like I would talk about getting my teeth cleaned or picking up dog poop in the backyard — it's necessary, it's part of my regular routine, and it keeps chaos and messiness in my life at a minimum. It's one thing to hear people with a platform say "let's end the stigma surrounding mental health," but it's a completely different thing to watch them actually do it. And Pink is kicking ass at it.
This isn't the first time Pink has been candid about the ups and downs of married life. She once opened up about the reality of married sex dry spells (they exist for a majority of us, and if they don't for you — well, pin a rose on your nose).
"I'm like, things are going so good, you guys. Then you'll go through times when you haven't had sex in a year," Pink said in an interview in 2017. "Is this bed death? Is this the end of it? Do I want him? Does he want me?" She takes a breath. "Monogamy is work! But you do the work and it's good again."
In a world full of social media perfection, it's refreshing to see and hear some honest, relatable stuff from a celebrity. Life and love can be wonderful, but only if you're willing to put in the work.
This article was originally published on