Pink, Channing Tatum, And Other Celebs Who Nailed Halloween This Year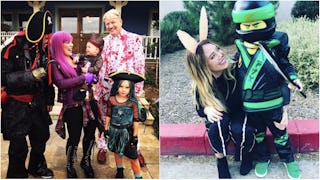 Images via Instagram/Pink/Hilary Duff
These celebs and their adorable kids are going to be your Halloween costume inspo for next year
Another Halloween has come and gone, but the fun isn't over just yet. Grab that leftover candy and settle in, because what you're about to see is painfully, painfully cute.
While some of us can hardly manage to throw together a bagged costume from the Halloween store at the mall, celebrities really have to bring it every year. They're constantly in the spotlight. They have hundreds of thousands or even millions of social media followers who expect greatness from them. And somehow, between their jobs and raising their kids and the demands of being actual famous people, they manage to deliver.
Like Pink, who not only put her 10-month-old son, Jameson, in a Jack-o-lantern for our amusement, but also got the whole family in on an elaborate pirate-themed group costume.
Chrissy Teigen is no stranger to slaying the Halloween game. Our only complaint is that this year, she left adorable daughter Luna at home while she and husband, John Legend, nailed it as Carmen Miranda and Groucho Marx.
Jenna Dewan Tatum made sure daughter Everly stayed as safe as could be, trick-or-treating with light up fairy wings.
Later, she revealed that she and hubby Channing Tatum dressed as The Nightmare Before Christmas' Sally and Jack at Everly's request. We get it; we couldn't tell that kid no either.
https://www.instagram.com/p/Ba8Uwz_Hqpc/?taken-by=jennadewan
Of all of this year's Disney-inspired looks, Jessica Biel, Justin Timberlake and son, Silas, may have taken the cake as Buzz Lightyear, Jessie and Woody from Toy Story.
But close behind was Kristen Bell, who wasn't exactly enthused by her daughter's insistence that she dress up as Elsa from Frozen, who is the sister of the character Bell actually voiced in that movie. At least she's a good sport about it.
Hilary Duff's bunny costume didn't exactly match son Luca's Lego Ninjago inspired look, but they made an adorable pair anyway.
Jessica Alba, on the other hand, coordinated a perfect family group costume for her, husband Cash Warren, and their two kids.
Jessica Simpson and her family almost nailed their group costume, but daughter Maxwell threw a wrench in the western theme with her Belle costume. Still, Simpson as Willie Nelson, complete with facial hair, might be one of our 2017 favorites.
Serena Williams proved that Halloween has no age limit when she decked out seven-week-old Alexis as "the hero Gotham needs."
And just like every year since their twins were born, Neil Patrick Harris and his husband, David Burtka, showed us how family costumes are done.
Miranda Kerr not only posed with her son, Flynn, in their vampire costumes, but with all of Flynn's friends, who she apparently took trick-or-treating. Lucky kids!
Fergie and son Axl matched perfectly as Peter Pan and Tinkerbell.
Jessie James Decker was not afraid to poke a little fun at some costumes that didn't turn out quite as expected. "He looks to me like a run away on Venice beach and Viv looks like she's the chick from the ring. But it's all good," she wrote alongside a photo of her husband, Eric Decker, as Maui, and their daughter as Moana.
We can't even wait for next year to see what they all come up with then. 364 days til next Halloween!
This article was originally published on