Pink Stopped Her Concert To Hug A Teen Who Lost Her Mom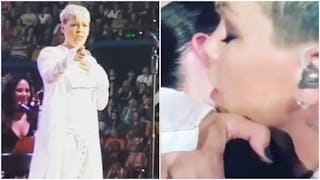 Image via Facebook/Katrina Donkin
Pink stopped her show so she could go into the audience and hug a teen who lost her mom
You might have thought it wasn't quite possible to love Pink any more than you already do. Think again, my friend. Think again. The singer stopped her concert so she could hug a young woman who recently lost her mom. The moment was completely beautiful and heartbreaking, all rolled into one.
This past June, 14-year-old Leah Murphy lost her mom Debbie. Leah's cousin, Katrina Donkin, told CBS News that Debbie was a massive fan of Pink, and had purchased tickets to go see the singer perform in Sydney, Australia, before she passed away.
"When Debbie had planned to go the the concert originally, she used to dance around with Leah in the loungeroom to Pink's music turned up loud," Donkin said. "Debbie loved to dance more than anything."
Leah went to the concert in her place and carried a sign that read: "My name is Leah – I'm 14 years old. I lost my beautiful Mum last month. I would LOVE a hug … Please!" At first, it didn't seem like Pink was going to notice Leah in the enormous crowd. The young girl waved her sign furiously and fans around her tried to get Pink's attention as well. Someone finally passed one of Leah's signs onto the stage.
As soon as Pink read the note she promptly hopped off the platform and headed straight to Leah. Videos of their interaction will make your heart combust into one million pieces.
The interaction is simply too sweet.
The singer gave Leah an enormous hug and quietly told her: "You're going to be okay." Then, she signed her arm and took a selfie of the two of them together. "She hugged her so tight, Leah cried," Donkin told The Courier-Mail. "It was so beautiful and so meaningful."
The moment made an important, lasting impression on the teen. Her cousin said that she's "so heartbroken" over losing her mother, but ever since the concert she hasn't stopped smiling and singing. And Donkin thinks that Debbie was right there in the room with them.
"I truly believe her mum orchestrated the whole thing," she told TODAY. "It was a hug from heaven."