Watch Pink And Her Daughter Sing A Duet And Prepare To Sob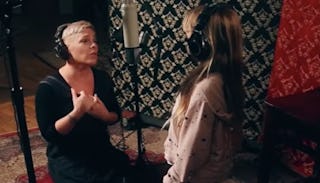 Image via YouTube
Pink and her daughter Willow are the best mother-daughter duo ever
Be still our Mama hearts — this video of Pink singing a duet with her seven-year-old daughter, Willow, is the sweetest thing you'll see today. The behind-the-scenes video of their recording session shows Willow might just be following in her mom's talented footsteps.
Pink and Willow are apparently the best mother-daughter vocal team since The Judds (Naomi and Wynona, respectively), as displayed in the video below. The two teamed up to sing a cover of "A Million Dreams" from the hit movie The Greatest Showman — and they both killed it.
The video opens with Pink and Willow goofing off a bit, and it's downright adorable watching the seven-year-old pretend she has no time for her mom's antics because she's ready to get down to business. And get down to it she does, by opening the song and singing the first verse all by herself.
Basically, it's the most angelic thing on earth and anyone with a beating heart (or a child of their own) will absolutely melt listening to her while her mama gently coaches her on tempo and pitch in the background. "I grew up listening to Annie and no one has done this for me, for my heart since I was a little girl," Pink says in the clip. "And to have her finally have something like this…You made our favorite movie ever."
The Greatest Showman is a movie inspired by the story of P. T. Barnum's creation of the Barnum & Bailey Circus and the lives of the circus' star attractions. The song recorded by Pink and Willow will be featured on an upcoming companion album for the movie: The Greatest Showman: Reimagined!
After spending all summer on tour with her family, Pink is taking a breather at home for a short while before embarking on the next leg of her international tour for Beautiful Trauma in 2019.
While she's also mom to son Jameson, 1, it's clear Pink and her oldest child have a beautiful mother-daughter bond. In between recording the song and playing around with Willow in between takes, Pink praises her little girl's talent.
"I think you're fun," she says lovingly. "I'm glad I had you."
This article was originally published on