Pink Entertaining Her Son While Exercising Is Peak Mom
by Valerie Williams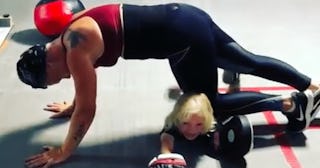 Instagram
Pink shows us how to mom-multitask while getting our sweat on
Pink is one of our favorite celebrity moms for a reason — despite however many millions of dollars she earns and how many stadiums she sells out, she is still One Of Us. She's counting the hours until bedtime and letting her kids run wild during summer vacation. In short, she gets it. Now, she's proving that she's every single mom ever who's trying to fit in a workout while also entertaining a tiny terror who doesn't care that Mommy just needs half an hour to fit in some cardio.
In an Instagram post captioned, "Laughter is the best medicine," Pink gives a master class in getting your swole on while keeping a busy toddler at bay.
They're obviously unspeakably adorable together — Jameson's baby laugh is intoxicatingly sweet and Pink is clearly not bothered by the tiny intrusion. But how real is this scene? Any mom who's tried exercising from home has experienced exactly this and probably worse. I have done so many planks with a 30-pound human weight on my back that I could probably take on The Rock. Ok, probably not — but you get my point.
And happily, Pink has started showing her little guys on Instagram again after a few months of refusing to share them with the world because of terrible internet trolls. We totally understand her desire to protect her babies, but are also thrilled that she's easing up a little and allowing us to see moments like this super cute mother-son sweat sesh.
This might be a good time to remind y'all that this is far from the first workout that Pink's kids have decided to participate in. She's an old pro at weaving her kiddos into her exercise routine.
We could all learn a few things from watching her in action, to be honest.
Pink brings her children into basically all aspects of her life including her world tour.
It's literally too much sweetness for us to handle.
So while working out with a toddler underneath you isn't necessarily the most peaceful thing ever, Pink shows us that we're not alone in our interrupted workouts — and that it's really not the worst thing in the world.
This article was originally published on