Pink's 3-Year-Old Still Has 100-Degree Temp Several Weeks After Coronavirus Test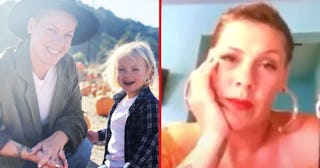 P!NK/Jen Pastiloff /Instagram
In an Instagram live, Pink just revealed how sick the coronavirus made her 3-year-old son, and it's scary AF
Over the weekend, Pink posted to Instagram to reveal that she had tested positive for COVID-19, and that both she and her three-year-old son, Jameson, had been showing symptoms. Pink has since recovered from the disease but she just took to Instagram live to explain more about what's been going on for the last few weeks, from her recovery to how Jameson is still struggling.
During her live video, Pink explained that being diagnosed with COVID-19 was "really, really scary," but it was little Jameson who had "the worst of it."
"There have been many nights where I've cried, and I've never prayed more," she said. "It's funny, you know, at one point I heard myself saying, 'I thought they promised us our kids would be OK.'"
Later on in the video, she came back to that point — that a lot of the early news coverage around the coronavirus suggested that young people — and in particular, young kids — weren't very affected by the disease. We've now learned that's not the case, and people of any age can become seriously ill or die if they become infected.
"In the beginning all we were hearing was, 'If you're young — this is 65 and older, the kids, thank god, are fine.' But at the end of the day, we're all pretty fit in this family," Pink said. "Jameson — he's three. He's perfectly fine. We live in the country. The worst thing that attacks us here is pollen or mountain lions. And he's been really, really sick and it's been really, really scary."
But now, weeks after her diagnoses, Pink has received a second test that came back negative, indicating she's over the disease. Jameson, on the other hand, still has a fever, she said.
"I'm hoping that we're out of the woods, but this thing is a rollercoaster," she explained. "Just when you think you're better, something else happens. So it's been three weeks for me, four weeks for him."
Since recovering, Pink has pledged $500,000 to various organizations and funds that are helping slow the spread of coronavirus. Now we just hope Jameson gets to feeling better ASAP.