Pink Brought Her Whole Adorable Family To The People's Choice Awards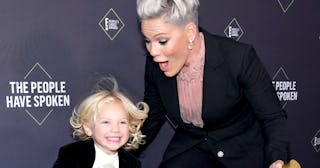 Rodin Eckenroth/Getty
Pink made her big night at the People's Choice Awards into a family affair
For the average family, a night out might be something like bowling or board games, or even just staying at home to watch a movie and eat snacks together. When one member of your family is a super famous and badass singer, though, family nights look a little different. Such was the case for Pink, who made her big night at the People's Choice Awards on Sunday into family night, bringing along three dates: her husband, Carey Hart, her 8-year-old daughter, Willow, and her almost-3-year-old son, Jameson.
The whole family hit the red carpet together, looking fantastic in coordinated outfits. Hart wore an all-black suit. Pink wore a black suit with blush-colored blouse peeking out. Little Jameson wore a tiny black suit of his own to match his parents. And Willow, who is clearly following in her mom's footsteps, went her own way with a red and pink ruffled dress, but paired the gown with black combat boots to fit the family theme.
Like, why are they so dang cute?
Pink documented some of the family night out on her Instagram, where she posted a sweet video of the part of the night where a photographer was trying to get a serious shot of her, but they had to pause so Willow could hand-feed her a piece of pretzel.
She also posted a super cute shot of herself and Jameson after the show, with the kiddo looking beyond thrilled to be there, writing in the caption, "That is how you do a red carpet."
The whole family seriously looked like they had such a great time, and it's no wonder — Pink won big at the awards show. She was presented with the 2019 People's Champion Award, and when she hit the stage to accept the honor, she gave a moving speech about being kind.
"I know that one person can make a difference," she said. "There is so much to be done. I don't care about your politics, I care about your kids. I care about decency and humanity and kindness. Kindness today is an act of rebellion. There are people who don't have what you have, help them get it. There is a planet that needs help, it feels good to help. Stop fighting each other and help each other. Get together with your friends and change the f—ing world."