Pink Is All Of Us Forgetting How Old Our Kids Are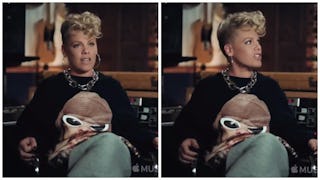 Image via Apple Music screenshot
Pink had a very public "mom brain" moment
Pink is one of those uber-famous women other women can relate to. She's open, honest, and doesn't seem to have time for any kind of bullshit. She's also been candid about motherhood, the highs and lows, and the chaos of life as a working mom. It was during one of those candid moments talking about all the "moving pieces" in her life when she did what most of us have done at least once in our children's lives – she completely blanked on how old her kid was.
The singer/songwriter was filming her upcoming documentary which follows her during the creation of her new album "Beautiful Trauma," and was answering a question about how it's been juggling two kids and touring, when her "mom brain" kicked in.
"It's so many moving pieces," she explained. "It's a lot of parts ― the studio sessions and you write the songs and then you have to finish the songs. And somebody is in New York and somebody is in Philadelphia and then maybe there's a choir in Philadelphia. And then it's photo shoots, video shoots, you're in dance rehearsals and then you're maybe on a festival tour at the same time over here and you're getting ready for your regular tour, so it's rehearsals and it's putting on shows," which all sounded factual and also completely exhausting. But then she added, "And then your 6-year-old has surf camp and your 8-year-old has a vaccination and then your album is out."
Wait, didn't she just have a baby?
When someone behind the camera pointed out that yes, she most definitely recently had a son, Jameson, who was actually eight months old, not eight years, the mother of two responded in typical Pink fashion:
"I said 8-year-old?"Ah, shit."
We've all been there, lady friend. I was making a doctor appointment for my then seven-month-old and the nurse asked for his date of birth. I completely froze, and then mumbled something about the weather being warm when he was born. The nurse started laughing and asked if I could venture a guess? "Sorry, I stammered. "It was definitely August but I cannot for the life of me remember the day." She decided to look us up by last name instead.
He was born on September 7th.
Pink has always been one to keep it real. Whether she is discussing her post-baby weight, championing public breastfeeding, or using her platform to remind her daughter, and kids everywhere to embrace their differences, she does so with grace and unapologetic humor, reminding all of us not to take things so seriously.
It's nice to know we aren't the only ones losing our minds because of our kids. We're sure Jameson isn't too bothered by her slip up either. He gets to have Pink as his mom, after all.