10 Gifts for Your Pink-Obsessed Child
by Team Scary Mommy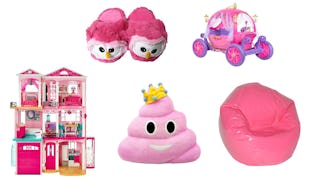 Image via Walmart
Nothing will make your pink-obsessed kid happier than these holiday gifts
There are few colors that get kids more jazzed than the color pink. It's bright, it's cheerful, and it reminds everybody of delicious, fruity bubblegum. If your child is currently completely wild for pink, we'd like to turn your attention immediately to these holiday gifts, which will probably (definitely) make them cry tears of pure joy.
Why, yes, your kid CAN cruise around the house like damn royalty. This Disney-themed ride comes complete with a heart-shaped steering wheel, mini lanterns, and a detachable tiara. Who needs a pumpkin carriage when you get this bright pink set of wheels?
All the pink + a super fancy Barbie dreamhouse = dreams really do come true. This bad boy comes complete with three floors, seven bedrooms, more than 70 accessories, and a working elevator. Now, just patiently awaiting an invite for tea and cookies.
If your child is going to get their own couch, it might as well be bubblegum pink with strawberry-shaped pillows. Prepare to experience a few twinges of envy.
It's getting cold outside and there's no better winter accessory than a pair of very furry pink owl slippers. Goodbye cold toes, hello very cozy feet.
Playtime just got exponentially more fun with this castle-shaped tent. Your kid can comfortably fit in there, along with their whole crew of stuffed animals, dolls, and plenty of blankets. Fort living has never looked more appealing.
Watching movies just got so much more fun. Your kid will love to take their tablet on the go and you don't have to worry about entertaining them during long car rides. Win-win.
All of your kid's books will fit so neatly in this very adorable organizer. Also – bonus points – it's Disney-themed.
Bedtime will be a whole lot more fun with this ultra bright poop emoji pillow. Because everybody can get behind a poop emoji – especially if it's pink.
Your kid can get their relaxation on with this ultra comfy bright pink beanbag chair. Should you get a matching one for yourself? Yes, you probably should.
Speaking of comfy, your kid is definitely going to want to curl up with this mermaid tail blanket. Nothing beats the cold months more than pink, snuggly, mermaid-shaped accessories.
Here's to a holiday filled with all the cozy, adorable gifts. Your kids will be floating on a bubblegum pink cloud of happiness.
We are a participant in the Walmart.com Affiliate Program and may earn fees by linking to Walmart.com and affiliated sites.
This article was originally published on