Pink Gives Birth To Second Child And Shares Intimate Photos On Instagram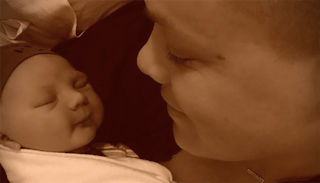 Pink shares pictures of her second child on Instagram
Pink gave birth to her second child the day after Christmas, and took to Instagram just a few days later to share her happiness with her fans. She posted two photos that give an intimate glimpse of the first days with her new baby.
The first is an image of Pink staring sweetly at her new baby boy, simply captioned, "Jameson Moon Hart 12.26.16"
The second is a photo of proud papa Carey Hart. "I love my baby daddy," it says.
The photos clearly capture those special, first, exhausted moments in hospital — and it speaks to how down-to-earth the family is to share those with their fans. Is there anything more intimate than those moments and days you spend with a new baby? While most celebrities are waiting for the big reveal, Pink and her husband shared the love — and it's so true to form. Pink has always been a down-to-earth, kick-ass mom. It's why we love her so much and why her fans adore her.
Jameson is the couple's second child. Daughter, Willow, is five years old.
Thanks for sharing this unbelievable moment with us. And congratulations on your beautiful baby boy!
This article was originally published on