Pink's Fam Looks Like Rock And Roll Royalty Celebrating Her Walk Of Fame Star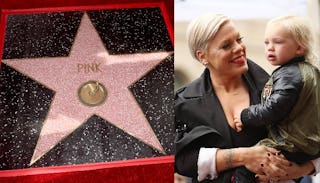 Image via Alberto E. Rodriguez/Micahel Tran/Getty Images
Pink's whole family came to see her accept her star on the Hollywood Walk of Fame
Pink accepted her star on the Hollywood Walk of Fame yesterday, and all we have to say is — finally. We've long know that this woman is a badass rockstar and basically our favorite celebrity mom for keeping it real at all times. It's nice to see her officially recognized as the total icon she is. The Grammy-winning singer brought her entire adorable family with her to celebrate the big moment, and lucky for us, that means plenty of cute photos.
Husband Carey Hart, daughter Willow, seven, and baby boy Jameson, two, stood by their wife and momma proudly as she basked in her big moment. Attempts at a family photo were made, and they were mostly successful. OK, they were very successful — and real AF.
Jameson just decided to be a complete two-year-old for part of it, and the look on Pink's face is one any mom will recognize. But it's all good — look how gorgeous they are.
Pink took to Instagram to share a few moments from her big day including a quick twirl in her glorious dress.
And her family being achingly cute together. They're simply the most adorable crew ever.
"This is surreal. It has been a trip lately thinking back over the course of this career I've somehow managed to have. I signed my first record deal 23 years ago … and I'm only 23½ so that's crazy," she joked during her acceptance speech.
Then, she got a little bit serious. "It's been two decades and it's been meaningful and it's been awesome. Today for me is a celebration of something that my dad taught me. And that is 'to thine own self be true' … There is a power in believing in yourself — you may not be the best that ever did it, you may not be the prettiest or the tallest of the funniest or the most talented … if you're stubborn and you don't give up and you work really hard — no one else can ever be you. Today is an absolute honor. Today proves that."
But regardless of her fame, fortune, and extraordinary success, there's a tiny man named Jameson who still needs a momma. And Pink is only too happy to oblige.
His bitty rocker jacket is making our ovaries explode, just saying.
Of course, she took a moment to pose with Hart, even calling him her "muse" during her speech.
"Thank you to my fans — you guys make it matter. Thank you for coming. My husband — he's so cute. He's my muse and if he didn't piss me off all the time I'd have not much to say. I wouldn't be standing up here if it wasn't for you. Never change. My children — you guys are my stars and I would never shine without you," she said.
Now that she's got her star, Pink is about to embark on the second leg of her tour — another 37 cities with her entire family, just like she did for the first half. As far as tour life with her little ones, Pink only has positive things to say. "I think it's cool that they get to see their mom be the boss and work really freaking hard to realize a dream," she told Redbook last year. "I'd say it's 95 percent positive."