Pink Shares Family Schedule Her Daughter Made Amid Coronavirus Quarantine
by Cassandra Stone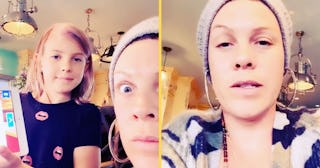 Pink/Instagram
Pink shares a totally doable schedule families everywhere can stick to during this period of isolation
As parents everywhere are wondering "what the hell am I supposed do with my kids all day?" Pink has some suggestions — and they're totally doable for most families. She and her daughter Willow came up with a solid family plan for staying sane and keeping a routine through this period of national isolation amid the coronavirus outbreak.
We've all seen about 567 recommended schedules for families since the weekend, because, sure, why not add a little pressure to parents to maintain rigorous schooling standards on top of trying to work from home and, oh yeah, not catch the horrific virus rapidly spreading through every community in the world.
But since routines can be a mental and physical lifesaver, trying to find some normalcy in regular activities is a great idea — and Pink's schedule is extremely doable and family-friendly.
"I wanted to share something really cool a friend sent to me," she said, before panning the camera over to show her homemade, color-coded schedule hanging in her kitchen. "It's how to make a schedule for your family."
Basically, Pink is all of us with young kids — her daughter Willow is eight and her son Jameson is three. She, the kids, and her husband Carey Hart seem like they're trying to make the best of the isolating situation we're all finding ourselves in right now. She also shared a super heart-wrenching but beautiful rendition of "Make You Feel My Love" as a "free concert" for everyone during this rough time. We promise you will cry, but like, a good cry.
Pink's quarantine schedule includes everything from morning walks, to academic and study time, to an hour set aside each day for "afternoon fresh air." HELL YES. We're gonna need all the fresh air we can snag — six feet apart from any other humans, of course.
Willow is "very excited about free TV time," Pink says, which she has set up to occur after dinner. Bedtime is at 9 p.m. now that school is out, but Mama makes it known that it'll be at 8 p.m. if her kids are fighting. LOL.
As for the grown-ups, Pink's looking for some light, fun books to read because her current one is "a little too depressing for quarantine." (This Author personally suggests getting into some romance novels, they're perfect for this).
"This is a crazy time but we have each other, so let's figure out a way to talk to each other and connect and be kind — and I'll do my best to be kind too," she says at the end of the video. "I love you all. We're gonna get through this."