Pink's Worries About Raising Her Daughter Are Relatable AF
by Valerie Williams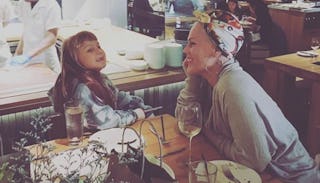 Image via Instagram/Pink
Pink's latest Instagram post proves she worries about how she parents like any other mom
It's well-established that Pink is one of our favorite celebrity moms because she always keeps it very open, honest, and real. She never pretends to have all the answers to this beautifully complicated journey called parenting, and she's definitely not above admitting it, as her most recent Instagram post proves.
The pop star, currently on tour with her entire adorable family, shared this sweet shot of herself with her nearly seven-year-old daughter along with some thoughts on how best to help her navigate life as she grows up. "I feel like I had it all figured out when she was younger," she writes.
The two are on a mother-daughter date at a dim sum class in San Francisco, clearly relaxed and happy in each other's presence, but there's some things on Pink's mind about how best to raise her little girl.
She says it was easier when it was just Willow, but now that she has two kids of "such different ages" it's a whole other ballgame — son Jameson is around 17 months. "I feel flustered so much of the time. The older she gets the less clear I am on how to guide her," she writes.
Pink shares her inner monologue, which, as the mom of a 10-year-old daughter, is pretty much my inner monologue to the letter. "Do I take the raw honest tough way? Do I cuddle her and tell her to not to worry? Do I let her be sassy knowing I want her to be strong and need her to be strong to survive in this world? Of course, but how do you interject subtlety and kindness?"
Parenting is a constant wondering if your approach is right or if it will somehow screw up your child for life. This post is intensely relatable for moms of slightly older kiddos. When you're in the thick of the baby and toddler haze, you think it couldn't possibly get any harder, right? Wrong. Oh so wrong. When they're tiny, so are their problems — even though those problems can be exhausting to handle. Change a diaper. Fill a sippy cup. Rock them all night long, which is tough, but it's a solution that's relatively easy to find. Figuring out how to raise a girl with the right balance of raw honesty and cuddles? Letting her be sassy and strong while not being rude? Not so easy.
She closes out her post asking for a little help. "I already know I worry too much, don't even bother telling me about that. I'm aware. Thoughts?"
Her followers are only too happy to oblige sharing stories about their own kids and reassuring her that going with her gut is a sure bet, and that she knows her own daughter better than anyone else. But perhaps one fan summed it up best. "Just love, don't over think it," she writes.
Sounds good to me.