Pink Stress-Making Ravioli To Deal With Coronavirus News Is All Of Us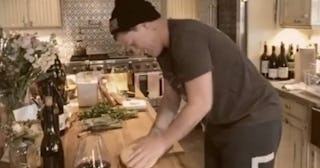 Pink/Instagram
Pink perfectly demonstrates how we're all feeling amid the coronavirus pandemic by rage-baking
Whether you're caught up in the stress-inducing hysteria of COVID-19 or just mildly freaking out over this very real, very emerging global pandemic, everyone is feeling some measure of anxiety right now. And with so much about the scope of the virus still unknown, everyone's tensions are, understandably, high. That goes for Pink, too, who shared an Instagram video of how she's coping with it. And it's extremely Pink, and therefore utterly relatable.
The video, shot by a friend, shows Pink pounding something on the counter of her kitchen (which is strewn with everything from baking supplies to a changing station, bless her).
"What's going on here?" the friend asks.
Snickering, then smiling, Pink answers in the beleaguered way we're all feeling: "I'm stressed out."
Rage-baking! It's all the rage (sorry, had to). Listen, if we're all going to be quarantined — and make no mistake, we are all going to take our turns being quarantined no matter who you are or where you live — what better way to deal with it? Might as well pound out some dough and get our feelings out. And then eat said feelings.
"We're gonna be okay though," she captions the post. "Probably. I'm sure. Washyourdisgustinghands."
Here's what we know about COVID-19, the virus in question. It's mostly sparing children. It is, unfortunately, not sparing those with compromised immune systems, respiratory conditions, and senior adults. It's spreading very, very quickly. Though patients in good health have had "mild" cases of it, "mild" still means chest pains, fluid-filled lungs, trouble breathing, fever, and gastrointestinal disease.
Panic doesn't do anyone any good, but it is good to stay concerned and informed and try to avoid confirmation bias, if your anxiety will let you. But with so much still unknown about the spread of the disease and the effects that may last beyond recovery, it's hard not to feel helpless and scared.
Like John Oliver said on Last Week Tonight, we shouldn't be so worried that we're "gargling bleach" as part of our daily routine, but we shouldn't be so nonchalant that we feel comfortable "licking the poles in a subway." We're all going to feel the effects of this coronavirus at various points, very soon, so staying in-the-know and keeping ourselves hydrated and as germ-free as possible is in everyone's best interest.
With many cities canceling major events (Boston's St. Paddy's Day parade) and major universities and schools shifting to online learning, it's probably best to steer clear of large public gatherings for the foreseeable future.
And, like Pink so perfectly put it, WASH YOUR DISGUSTING HANDS.
This article was originally published on