Listen To Pink Completely Nail 'Jolene' During Dolly Parton Tribute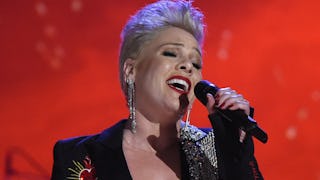 Image via Kevin Mazur/Getty Images for NARAS
Everything about Pink's performance here is perfect
You will literally never hear anyone say Pink can't wail. The woman can belt, she can rock out, she can nail a ballad — and often times, she can do it all while performing Cirque du Soleil levels of acrobatics. While she stayed put during her latest performance at a Dolly Parton tribute gala, it's nothing short of amazing.
On Friday, several famous musicians came together to honor Queen Dolly Parton at the MusiCares Person of the Year gala in L.A. The night of performances kicked off with our favorite gal, Pink, who took the stage to sing Dolly's iconic hit, "Jolene."
While there have been plenty of impressive covers of the song over the years, Pink proves she and Jolene go together like auburn hair and eyes of emerald green.
Whew. We're not worthy, we're truly not. She's got the perfect set of pipes to cover that song and cover it to perfection. Also? It doesn't get much better than one legend honoring another.
Pink is basically having The Best Week Ever. She just received a star on the Hollywood Walk of Fame, where she looked amazing and posed for some adorable photos with her entire family. Pink has been a superstar since the early aughts, so it's fabulous to see her honored forever like the star she is.
Accompanied by her husband Carey Hart, their daughter Willow, seven, and son Jameson, two, Pink received her star while her whole happy crew proudly as she basked in her big moment.
How awesome would it be to watch your mom get a star on the walk of fame? Probably not even half as awesome as watching her crush sold-out performances night after night on a world tour, but still pretty cool.
After Pink and several other musicians performed, Dolly Parton delivered a kick-ass acceptance speech after being praised for her charity work, musican contributions, and acting. "I have actually worked with so many wonderful men, and I've never met a man that I didn't like," Parton said during her acceptance speech. "But I've never met a man whose ass I couldn't kick if he didn't treat me with the right respect."
Yeah, we're starting to understand why Pink was chosen to kick things off — she's equally talented and as tough as Dolly. And we stan them both.
Speaking of speeches, Pink offered some perfect pearls of wisdom during her star acceptance ceremony:
"It's been two decades and it's been meaningful and it's been awesome. Today for me is a celebration of something that my dad taught me. And that is 'to thine own self be true' … There is a power in believing in yourself — you may not be the best that ever did it, you may not be the prettiest or the tallest of the funniest or the most talented … if you're stubborn and you don't give up and you work really hard — no one else can ever be you. Today is an absolute honor. Today proves that."