Pink Didn't Win A Grammy -- So Her Kids Made Her One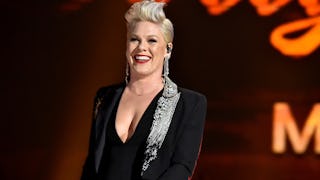 Image Lester Cohen/Getty Images
Pink's kids made her a tinfoil Grammy and our hearts may burst
The 2019 Grammy Awards were last night and of the various singers we'd loved to have won, Pink is definitely at the top of the list. She ended up losing Best Pop Vocal Album but her kids surprised her with one anyway, and it's so much better than the original.
Pink was nominated for her seventh album, Beautiful Trauma, with other amazing acts like Taylor Swift, Kelly Clarkson, and Camila Cabello. Ultimately, Ariana Grande took home the Grammy for her album, Sweetner (ok, we love her, too) but Pink's kids saved the day in the most adorable way ever.
"Thanks Kids:) my favorite kind of award," Pink wrote next to photos of very crafty daughter, Willow, seven, and son Jameson, two, holding up a handmade tinfoil Grammy. Be still my ovaries, they're simply the cutest.
During her blockbuster career, Pink has had 20 Grammy nominations and three wins, which you'd think would go to anyone's head. Anyone but Pink, that is. Last week, she told Ellen DeGeneres she predicted a loss, even though Beautiful Trauma was the third global best-selling album of 2017 and sold more than 1.8 million copies.
"Every time I lose, Carey makes me a tinfoil Grammy. And so this will be my 17th tinfoil Grammy on Sunday," she told DeGeneres. We now know her prediction was correct, but don't think for a second that's why she was absent from the awards show — she was home with a sick kid.
"I think it's kind of rad that I just lost my 20th Grammy nomination," she tweeted. "I'm always honored to be included. Now to get this sick baby in the bathtub. Congrats to all the nominees! Have fun tonight." Does anyone else think that sounds so much more fun than getting dressed up? Just me?
Let's not forget that even though the Grammys didn't go her way, Pink just got her very own Walk of Fame star, and her entire adorable family watched her be honored. Not that it compares to a tinfoil Grammy, but still.
The mom of two has continually blessed her fans with pics of her tour, many with Willow and Jameson living their best lives. Really, how couldn't you traveling around the world with your uber-famous, even more, uber-cool mom?
She didn't miss all the Grammy action though. On Friday, musicians came together to honor Dolly Parton at the MusiCares Person of the Year gala in L.A. Pink kicked off the show nailing Dolly's iconic hit, "Jolene," and her performance gave literally everyone who saw it the chills.
At the end of the day, Pink is a winner in our book. She's a badass performer, and an even more badass mom and woman and should win all of the awards in those categories, forever.
This article was originally published on