Pink On Having A Miscarriage: 'You Feel Like Your Body Hates You'
by Christina Marfice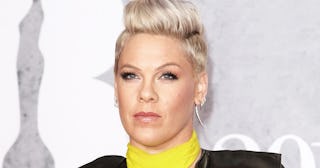 SOPA Images / Getty
Pink's new album tackles some darker periods of her life
While Pink has never been one to shy away from talking about difficult or controversial subjects, especially in her music, her recent revelation about her new album comes as a total surprise to fans and casual followers alike. Opening up about what inspired the new album, Hurts 2B Human, Pink revealed that she had a miscarriage when she was just 17 years old, and that she's experienced several others since then.
She brought it up while discussing the opening lyrics to her single "Happy," which begins, "Since I was 17, I've always hated my body / and it feels like my body's hated me."
"The reason I said (that) is because I've always had this very tomboy, very strong gymnast body, but actually at 17 I had a miscarriage," she told USA Today in a brave, candid new interview. "And I was going to have that child. But when that happens to a woman or a young girl, you feel like your body hates you and like your body is broken, and it's not doing what it's supposed to do. I've had several miscarriages since, so I think it's important to talk about what you're ashamed of, who you really are and the painful shit. I've always written that way."
So this is important for a lot of reasons. For one, it's more proof of what we've known for years: that Pink is an exceptionally strong woman who can overcome any challenge gracefully. But it's also important because there's a stigma around talking about miscarriage, and celebrities who open up about the subject make it easier for all of us to be open about one of the most heartbreaking things that can happen to a woman who wants to be a mom.
Another thing Pink isn't shying away from talking about, even though there's a stigma attached? That five years after her miscarriage, she started seeing a therapist who helped her work through the residual pain from that loss.
"I believe in self-confrontation and just getting things out," she said. "What I love about therapy is that they'll tell you what your blind spots are. Although that's uncomfortable and painful, it gives you something to work with. I think the reason I can go to such uncomfortable places and be so honest is because I have a really healthy sense of humor. I'm extremely self-deprecating, and when shit goes bad – which in any life is inevitable – you've just got to find the funny. It's because I can laugh that I can cry so hard."
Now, Pink and her husband, Carey Hart, are parents to two adorable babies, 7-year-old daughter Willow, and 2-year-old son Jameson. Appearing on TODAY last week, she talked about how being a mom has changed her from the inside out.
"I'm much more open, I'm much more accepting of myself, I'm much more thoughtful," she said. "I think about the world more, and what we're leaving for these kids, and the direction we're headed in. And so I guess it changes your music."
If these are the themes that her new music will explore, we truly can't wait to hear the full album.