Pink Says 'F*ck The Parenting Police' In Epic Instagram Post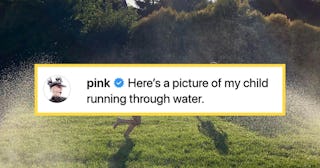 Pink/Instagram
Pink doesn't care what you think of her parenting "fails"
When it comes to her kids and what she posts on social media, Pink has taken a large step back in recent months. It was after an incident with her little boy not wearing a diaper and commenters going full mom-shame that the pop star (and our secret Mom BFF) decided enough was enough. She promised we wouldn't be seeing her kids on her Instagram account again, and for good reason — who on earth has time to deal with that nonsense?
Now, she's sharing a new snap of her daughter that doesn't show her face, but the photo's not really the point — it's the epic caption where she makes clear that she's done caring what anyone thinks of her parenting.
"Here's a picture of my child running through water. It wasn't even filtered. What a waste of water," she quips.
The image shows Willow and another child enjoying a carefree summer day in the sprinkler, as all kids should in July. But Pink's sarcastic remarks show that she understands that many of her followers won't even notice the sweet childhood innocence the snap conveys — they'll just be picking apart her parenting and making dumb comments.
"And no helmet? I hope she had sunscreen. If she slips and falls she may be traumatized for life," she writes. "And her mother wasn't even there. I was….. gasp…. working!!!! In another country!"
BOOM.
She pretty much preempted all of the stupid shit people could've left in her comment section (which she turned off for this post, by the way — she's clearly had enough) and owned it. The kids might not have on sunscreen. They might slip and get hurt! Oh, and mom's not around because she's working. Get ready to clutch those pearls, mom-shamers. Pink's given you all kinds of material.
Good thing she doesn't really give a crap what anyone else thinks.
Pink's made a habit of living her parenting life much like she does the rest of her life — on her own terms with not a single eff to give. She's obviously a loving mother and her kids get to travel the world with her while she tours and she makes time for fun with them in between shows. If people looked at her past photos of her kids enjoying time with their parents and see anything other than love and joy, they don't even deserve the blessing of those images in the first place. She was sharing her beautiful family with the world, but the world was a total asshole, so she stopped.
The fact that she shut off the comments on this one is truly glorious. Pink's given no avenue at all for idiots to pipe up and she got the last word in. Genius. This is also not the first time she's made a point of talking about her hands-off summer parenting. "Yeah my kid rides her bike inside. Without clothes. And helmets. While I ignore her and look at my phone," she writes.
Can she just join our playgroups already? Please?
Pink, we are 1000 percent here for your brand of parenting. While we get that keeping your kids away from the garbage trolls is very important, we do miss hearing your thoughts on mom life. This post was a much-needed treat.
Hear what our real-life Scary Mommies, Keri and Ashley, have to say about this when they give their (always real) thoughts in this episode of our Scary Mommy Speaks podcast.
This article was originally published on