Pink Thanks Fans For All The Baby Love By Sharing Sweet Pic Of New Siblings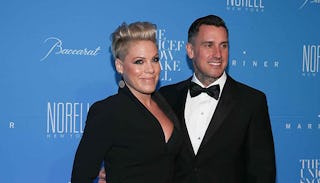 Image via Rob Kim/Getty Images
Pink's daughter Willow is super excited about her new role as big sister
The holidays may be over, but Pink is still sprinkling us with gifts. She gave birth to a son the day after Christmas, after announcing the pregnancy only this past November. A few days ago we were lucky enough to get a glimpse of baby Jameson in pictures with both the new mom herself and dad Carey Hart.
Fans were pumped to get such an intimate look at the baby's early days, and it appears all the well wishes were much appreciated. Pink shared another image yesterday, this time one that shows five-year-old Willow clearly loving her new role as a big sister.
"Happy New Year," Pink wrote in the caption. "[T]he Harts thank you for your love and we send it back to you in spades."
There isn't a drop of sibling rivalry to be seen on Willow's face like you sometimes find when an older child meets their new baby brother or sister. Just an ear to ear grin and some awesome pink highlights that are ten times cooler than any hairstyle I've ever worn.
The rockstar momma is known for being pretty private when it comes to her family, so it's really special to get so many inside glimpses into this very personal moment in her life. Pink's always so real and down to earth, which is why we love her so. No glossy magazine spread to herald the birth of her baby boy, just personal Instagram snaps, like any of us would take and share. Only her family looks far more hip in them than we do in ours.
Rock on.