Adorable Video Shows Pink's Son Living His Best Life On Her Tour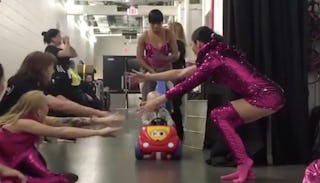 Image via Instagram/Pink
Pink's kids are having the time of their lives on tour
When it comes to celebrity moms, Pink is by far one of most relatable. She's got daughter Willow, seven, and son Jameson, one, and even though she's busy selling out stadiums on her latest tour, it's not stopping her from bringing her family in on the fun. By the looks of things, her kids are enjoying life on tour as much as she is.
Pink shared some candid videos and pictures from their life going all over the globe. She's enlisted the help of her crew to keep the kids happy as clams. "Just another day in the life of a tiny rockstar baby," she posted next to an adorable video of baby Jameson being driven through a jazz hands car wash on his tiny scooter. First, he couldn't possibly be any cuter and second, he is obviously having the time of his life.
It feels odd to be jealous of a one-year-old's life but I am. There. I said it.
The Grammy Award-winning singer is a month into her Beautiful Trauma tour, which began in March and ends in September in Auckland, New Zealand. It's a grueling schedule and performance with acrobatics, dancing, and a whole lot of coordination but, like any working mom, she figures out how to get shit done. And that includes entertaining her kids.
Little Jameson was also front and center in Boston taking charge of the music situation, clearly following in his mother's talented footsteps.
He looked even more at home in Cleveland, donning a wee robe and a smile that could melt an iceberg. "We're ready to party Cleveland," the proud mom wrote.
He also gets in on the action when his mom is trying to warm up for her show. This is peak mom, right here.
Not to be outdone by her little bro, Willow is always in on the action when her mom's at work. She's a fixture at awards shows and is no stranger to being backstage while her mom is onstage killing it. Check out the dance moves she's picking up as they travel the world.
Pink also shared a mini makeup tutorial her daughter created with the hashtags #backstage #rockstarintraining#likemamalikedaughter.
By the looks of things, I'd say this is a tour for the record books — and their family photo album.