Pink Just Shared A Text From The Mom Friend We All Need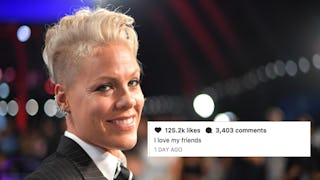 Image via Matt Winkelmeyer/Getty Images
Pink shares text message from her friend, moms everywhere relate
When you're in the thick of it with a newborn, sometimes you don't need practical parenting advice or expert tips. All you need is a friend to say the right thing at the right time — usually involving some well-placed expletives.
Pink has that friend, and shared a text exchange between the two of them this weekend. It's truly #bffgoals.
"Why do babies cry so much? I feel like he's fucking with me at the point," Pink texted her friend, obviously referring to her adorable 8-month-old son, Jameson Moon Hart.
And how did her friend respond? He or she didn't send a link to the hottest sleep sound machine, or spout off the latest "expert" advice they'd read about calming a fussy baby. They simply said,
"Babies are cunts."
YES. Yes, they are. And sometimes that's all you need to hear.
Pink has basically become the poster-mom for keepin' it real, and this post is no different. She simply captioned it, "I love my friends."
Look, there's nothing wrong with some well-meaning advice. But sometimes you just want someone to say the stuff you need to hear. And sometimes that thing you need to hear is, "yes, kids are total assholes." They cry for no reason and whine like it's their damn job. And it's okay to admit they drive us all fucking crazy sometimes.
So just remember that the next time your friend texts you at her wit's end. When we're at that place, we don't always need advice. We need some commiseration and reality. We need someone to call our kid a few names.
That's a friend.