Pink's Throwback Pics Prove Her Family Knows How To Halloween
by Julie Scagell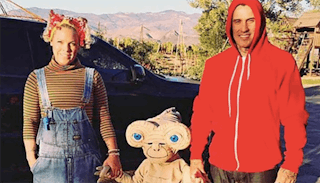 Image via Instagram/ Pink
Pink's costumes are everything you thought they would be and more
Halloween's all about the costumes so it would stand to reason Pink's winning the internet with the throwback pics she's been sharing. In addition to some adorable ones of her as a child, she shares some from years past with her growing family. Apparently she can add "master sewer" to her resume, because of course she can.
"Halloween flashback time. Me and my bestie Lane. I was Mademoiselle Moore here," she shares on Instagram. It's hard to tell if this is really her or six-year-old daughter, Willow, because they look identical.
Next up is…"Madonna, of course," she writes. I personally relate to this one on a spiritual level. I think I was Madonna for at least three years. There was "Desperately Seeking Susan" Madonna and "Like a Virgin" Madonna, and who can forget "Like a Prayer" video Madonna. She provided never-ending options for the mildly obsessed fan.
Then the mom of two shared some more recent pictures of her and her family. First up is daughter Willow next to the caption, "First costume I ever made from scratch. When she wants to be a spider… you make a spider." Seriously, is there anything this woman can't do? Being a Grammy winning singer, writer and general kick-ass woman isn't enough? Now she has to go and win mother of the year.
Pink posted another throwback of her, husband Carey Hart, and Willow captioned, "And my all time favorite," because how could this not be? How can you possibly top Gertie, Elliott, and a four-year-old Willow as E.T? There can't possibly be anything more adorable than this picture.
Until she shared this next one. "Speaking of homemade… a mama bird and her chicks #lastyearwhileiwashiding #thiscostumetookmethirtyhoursandabrokenback." Come on. This may take the cake for the best pregnancy Halloween costume of all time.
Pink is one to share incredibly real (and extremely adorable) family photos on her Instagram account. She shares photos of herself breastfeeding to champion the cause. She let's us in on her daily routine, which sometimes means ignoring her kids and staring at her phone, because that's real life. And she's a lover of wine, so there's that.
Pink also shared one (and hopefully not the only) picture from this year with her newest addition, baby boy Jameson. "Happy Halloween," she writes next to an adorable photo of him inside a pumpkin, looking like he's not too sure about this Halloween thing yet.
Does anyone else plan to spend the day refreshing her Instagram feed waiting for this year's costumes?