Pink Shaved Her Head And Everyone Is Here For It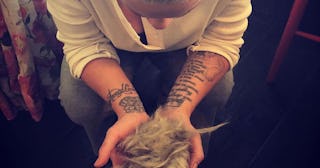 Pink/Instagram
Pink shared a photo of her newly shaved head on Instagram and everyone is loving it
Pink is basically our idol. I was careful to not say "mom idol" because although she is, that's really only part of why we worship the ground she walks on. She's always unapologetically herself and has not one f*ck to give about anyone's idea of beauty but her own. She's proving it once again by sharing a photo of her newly shaved head — and that she looks good with literally any amount of hair (or lack thereof).
She captioned a stunning snap of her shorn head, hair in her hands, simply, "Letting go."
Seriously, can we be her when we grow up? Over the years she's been in the spotlight, Pink has never shied away from experimenting with hair, both cuts and colors. We love how freely she experiments and the fact that no matter what she does, her inner (and outer) badass always shines through.
Of course, the photo was met with wild cheers from fans and some famous names including her husband, Carey Hart.
Celeb pal Kate Hudson is all about it.
And of course, Selma Blair excitedly pointed out that the pair now sport matching 'dos.
When we say Pink is always completely herself, we mean it. She stays true to who she is no matter how famous she gets.
That means prioritizing her husband and kids over her insanely explosive career, as she announced recently that she would be letting her performing take a backseat while Hart has a turn.
"Yeah, we did two and a half years, and Willow is back in school now, and Jameson's gonna start preschool soon, so it's kind of the year of the family," she said on the CMA Awards red carpet, while both of her children and Hart, stood by her side. "Carey has a lot going on as well. He is super supportive. He follows me around the world, and now it's his turn."
Now that's couple goals.
And of course, she's always mom goals.
Pink, please be our BFF forever-ever and teach us how to love ourselves and to try that spontaneous hairdo without a single thought for what anyone else thinks. And never stop sharing every moment of that badassery with the world.
This article was originally published on