Pink Hilariously Nails What It's Like Having Sick Kids During A Holiday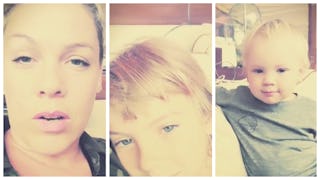 Image via Instagram/P!nk
Pink's latest Instagram video about her sick kids will make you LOL
Having sick kids sucks, just in general. Having two sick kids in the middle of summer? Even suckier. Having two sick kids during a summer holiday? The suckiest. But luckily, Pink is here to give us the relatable, hilarious mom content we crave. Because she's a rock star in more ways than one.
Pink is currently on the Australian leg of her tour — a fun fact some may not know about the beautiful land Down Under is that their seasons do not align with those in the western hemisphere. So while plenty of us were quite literally roasting and melting in the summer heat during our 4th of July barbecues yesterday, Pink and her kids spent the summer holiday freezing in the middle of a Perth winter.
With colds. And thermometers shoved… well, I'll let her tell you where.
"Happy Fourth of July everybody, from rainy, cold Perth," she says in the video, showing her snuggling up on the couth with her two kiddos Willow and Jameson. "We're in winter, again…winter is coming….both kids with thermometers stuck up their butts."
LOL. Yep, sounds about right. At least she's got a sense of humor.
"What's your temperature?" she asks Willow, who's clocking in at a 101.4. And little Jameson is well into the Miserable Range of fevers with 103. Any mom with young children feels her pain immensely. Because if you have kids and you celebrate literally any holiday, anytime of the year, you know your children's odds of coming down with an illness of some sort magically increase by, like, 99 percent.
"What's my temperature?" she asks. "Who cares?" She then gives the camera a hilarious 4th of July "woo" that only a rock star mom of two sick kiddos can.
Pink has shared plenty of awesome tidbits and snapshots of what family life is like while on tour.
She along with her husband Carey Hart and two kids are definitely taking in the whole world while Mom does her thing, and it's awesome.
Scrolling through her Instagram will make you want to become an honorary member of the family.
Perhaps the best part about everything Pink shares with us that while she's awesome and her job is amazing, she still keeps it 100% real. Like this time Willow fell asleep at one of her mom's shows — because kids will keep you humble like no one else can.
"I really rocked that shit tonight." See? This is why we love her. Pink is the epitome of cool, but at the end of the day, she's still a mom just like us. The only difference is she just wipes noses and pulls thermometers out of butts after performing sold-out shows for adoring fans all over the world, that's all.