Pink's Toddler Welcoming Her Home Will Make Your Ovaries Explode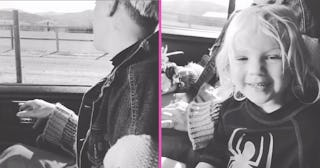 Pink/Instagram
Pink's son brought her flowers to welcome her home and it's beyond adorable
When they're not refusing naps, throwing public tantrums, refusing to eat anything but chicken nuggets, or insisting on watching the same episode of Daniel Tiger 23 times a day, toddlers are actually pretty great. Their tiny voices, funny expressions, and cuddly moments make up for all of the nonsense, and a perfect example of sweet little ones making us all want another baby instead of a 3-day nap is this video of Pink's toddler son welcoming her home.
While Pink was literally swinging from a chandelier while performing at the Rock in Rio music festival in Rio de Janeiro, her son Jameson was chilling at home, just waiting for his momma to return. When the time came, this little man was more than prepared with bouquets of flowers (one for dad Carey Hart too!) and the cutest little voice. "Momma, I got you flowers!" he proudly tells her. And that's when our hearts burst and we turned into actual puddles of goo.
https://www.instagram.com/p/B3WFbJJAJQ_/
He happily snuggles in next to her and says, "I got you flowers too!" to his dad, who is only too pumped to receive them. But once all the greetings and love are dispensed with, he's back to being a toddler and demanding to have his Spider-Man. Just the way it's all supposed to be.
In Pink's voice is the sound of every mom everywhere who just did something fun away from their kiddo but was probably inwardly clamoring to get home and see the little bugger the entire time. It's the struggle of so many parents — we want to do fun things away from our kids, we have to go away for work sometimes, but in the end, we just want to get home to toddler-arranged bouquets and stories about skinned knees.
Of course, Pink is no stranger to life on the road and having to briefly part with her children, but happily, she's often able to tote them with her when she tours and performs. We love when she takes us along for the ride, providing photographic evidence of the amount of fun that can be had on a world tour with kids. Spoiler alert: it looks like actually tons of fun.
https://www.instagram.com/p/BgklvhTFYb8/?utm_source=ig_embed
Is it so much to ask that we get to come too? Probably. In the meantime, we are happy to see the photos and the adorably joyous reunions when Momma has to go it alone.
This article was originally published on