Pink Got Her 5-Year-Old A Matt Damon Birthday Cake And It's As Amazing As It Sounds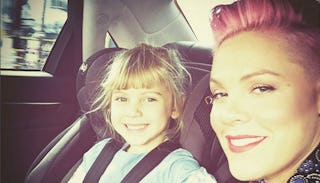 Pink's daughter, Willow, got the Matt Damon birthday cake she's always wanted
Can't decide on a theme for your kid's next birthday? Well, you could always take a page out of Pink's book and throw them the Matt Damon birthday party of their tiny dreams.
Pink's daughter, Willow, recently turned five, and wanted nothing more than a birthday party themed after Damon's hit movie, The Martian. "She loves it," Pink told an Australian radio show. "I thought [The Martian] was great, but I don't love it the way she loves it. She asked me if Matt Damon can come to the party. I think she has a little crush."
The pop star couldn't deliver Matt Damon on a silver platter, so she did the next best thing: she got a cake that looks just like him. On Sunday, Pink posted an Instagram photo of a chocolatey looking Mars cake with an astronaut that's supposed to be Mark Watney, Matt Damon's character in The Martian, sitting on top. The little astronaut figurine is rocking a cut-out of Matt Damon's head as his face. It's pretty much the greatest thing ever.
"Matt Damon made it after all!" Pink wrote on the photo's caption. Ah, the things we do for our kids.
Pink's daughter certainly isn't the first to request a unique birthday party theme. Remember the little girl last year who had a CVS-themed birthday party? Or, the dad who lovingly made his twins a "Princess Hulk" cake to appease both of their requests for their birthday?
My four-year-old is currently obsessed with watching old Bob Ross painting shows on Netflix and told me she wants to dress up like him and have a painting party for her birthday. I'm sure she'll change her mind by then, since we're still about five months out — but if she doesn't, I'm totally here for that.
One of the best parts of having kids is getting to witness their unique, unexpected, and ever-changing interests. It's not always easy or possible to give them what they want, but it's adorable when parents are able to get creative to figure out a way to make them happy. It's only because we love them so much that we go out of our way to try to indulge their crazy desires. Pink confirmed as much later in the day when she posted another sweet snap, this time of herself and her daughter playing music together.
"Happy birthday, baby girl," she wrote. "I carry your heart with me."
Aw. Happy birthday, Willow!
This article was originally published on