Cutest Idea, Ever: Pink Throws Her Daughter A 'Big Sister Party'
by Megan Zander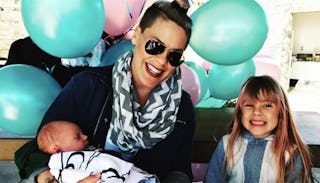 Pink throws her daughter Willow a special party to celebrate her new role as a big sister
We already look up to Pink as a icon of cool mom style, but her latest parenting move is one you're going to want to steal for yourself as well. The singer and her husband, Carey Hart, threw their five-year-old daughter Willow a big sister party to celebrate her new role following the birth of baby Jameson. The family shared a photo of the party on Instagram.
The family welcomed Jameson Moon Hart the day after Christmas, and Pink has been giving fans sneak peeks into life with two kids ever since.
Willow's big sister party looks like it was very chill. A cake, some balloons and one very excited little girl –why did no one think of this sooner? If the snaps the family have shared are any indication, Willow didn't need a special event to feel a bond with her brother, but we still love this idea.
Of coure you want to celebrate the birth of a new baby. But when you're welcoming baby number two (or three or four) having a traditional baby shower doesn't always make sense. And while gender reveals can be fun, they don't always go according to plan. This is why the older sibling celebration is such a great idea. It reminds your older kids how much they're still loved. Plus it lets your friends and family meet the new baby without having an endless stream of visitors in your house during those first few months when you're trying to find a new family rhythm.
Pink's always been a trendsetter with her music and style. We have a feeling sibling parties could be just another way this kick-ass mom is ahead of the cool curve.