Pink Uses Her VMA Speech To Respond To Her Daughter's Concern That She's 'Ugly'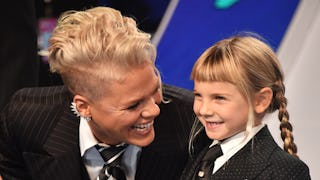 Image via Frazer Harrison/Getty Images
Pink uses her VMA speech to teach her daughter about self acceptance
The MTV Music Video Awards were last night, and Pink won an award for Video Vanguard. She used her time on stage to send a very important message to her 6-year-old daughter, Willow, about self acceptance and beauty.
"Recently I was driving my daughter to school, and she said to me out of the blue, 'Mama, I'm the ugliest girl I know.'" Willow then told her mother she thought she looked like a boy with long hair. Like most moms who have ever been put in this position, Pink admits to immediately thinking, "Where is this coming from? Who said this? Can I kick a 6-year-old's ass?"
But instead of responding with confusion or anger, Pink took her daughter home and made a "power point presentation," to explain to her the intricacies of beauty, androgyny, and originality.
She showed her daughter images of brilliant artists, who were also considered androgynous — and made fun of; Prince, David Bowie, Annie Lennox, Janis Joplin. She explained that she herself has been constantly made fun of throughout her career for looking to strong, masculine, and boyish with her short hair and muscles. She asked Willow, "When people make fun of me . . . do you see me growing my hair? 'No, mama.' Do you see me changing my body? 'No mama.' Do you see me selling out arenas all over the world? 'Yes, mama.'"
While she made her speech and recounted this tale, her husband Corey Hart and her daughter looked on with love and admiration. Willow already looks like a strong, confident little woman — thanks no doubt to the love, acceptance, and creativity that blossoms in her home. Many often think celebrities "aren't like us" — but Pink proved last night that parenthood is something that unites many of us in a common objective; to keep our children safe from bullying and judgment, and to raise them to be the confident little humans they were meant to be.
"So, baby, girl," Pink said, "We don't change. We take the gravel and the shell and we make a pearl." After thanking the musicians who continue to powerfully display their true selves, she ended with,
"You my darling girl are beautiful, and I love you."
This article was originally published on