Pink's 7-Year-Old Dyed Her Hair Purple And She's Officially Cooler Than All Of Us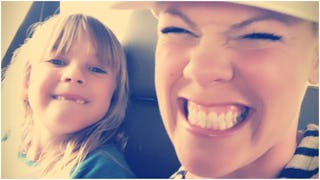 Image via Pink/Instagram
Pink's daughter has purple hair and she's winning the internet
Pink is fierce. Pink is badass. Pink is an enormous talent. Pink is an amazing mother. Pink has also been officially dethroned by her ridiculously cool seven-year-old child. Don't believe me? Just wait until you see her pull off purple hair like no other.
Pink's husband Carey Hart debuted his daughter Willow's new look on Instagram and, yes, it's perfectly understandable if you're now debating whether or not you too should dye your hair a very edgy color. I mean, it's really never too late to get a little experimental.
Seriously, though, we should all be so lucky to be the Pugsley to Willow's devastatingly hip Wednesday.
Pink gave us another snapshot of her too-cool-for-school kid on Instagram and captured Willow with headphones on, scrolling through her iPad. "Purple hair don't care," the rockstar quipped. Should this be our new life motto? Probably.
Now, don't go thinking Willow is just about her cool hair. She's also developing into a really impressive little person. Her dad took to Instagram calling her a "strong, smart, sensitive, little girl." He also said that he enjoys every moment that they're together, and my heart is starting to explode.
And then Pink shared a picture of the two of them voting in the primaries, and my heart has officially exploded.
If you need yet another reason to believe that Willow is the truest of pint-sized rockstars, please turn your attention immediately to this makeup tutorial that she made. Glittery blue under-eye makeup has never looked so glamorous.
This girl can honestly do our makeup any time.
Basically the moral of this story is that Pink and Carey have created one really awesome, individualistic kid and we should all probably consider dying our hair purple. Or, like, just one really subtle streak.
This article was originally published on