Pink's Kids Are Living Their Best Lives On Her International Tour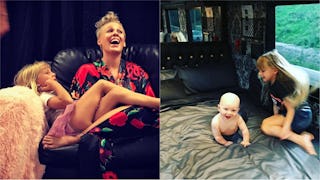 Image via Pink / Instagram
Pink brought her kids on her world tour and is documenting all the sweetest moments
What do you do when you're a badass mom, but also a badass musician with an international tour scheduled? You take your kids with you, and then document their incredible lives both inside and outside of the tour bus.
Pink is currently on the European leg of her world tour, and is enjoying the company of husband, Carey Hart, six-year-old daughter, Willow Sage, and seven-month-old son, Jameson Moon, while on the road.
It started off with a little drama, when Willow and Pink got trapped in an elevator right before Mom was set to go onstage for her first show.
(Seriously, though — look at Willow with her backstage pass. What a life.)
But since then, life has been both spectacular and surprisingly normal for the globetrotting kids, at least as far as we can tell from Pink's Instagram posts.
Willow has gotten to chill backstage with mom, looking a little bored about it, to be honest.
Jameson has been enjoying that hotel life.
Both kids have gotten to see some epic shows.
Jameson's sweet baby giggle has provided laughs during long drives in Germany.
In fact, both kiddos seem pretty well adjusted to life in a bus.
Amid craziness like packed arena shows:
There's also a shocking amount of normal life, such as getting in some snuggle time after a long night at "work:"
In between seeing once-in-a-lifetime sights all over the world:
There are a lot of regular family moments, except for the fact that they're taking place on a bus tens of thousands of miles from home.
The one thing we know for sure is that this family is making memories that will last a lifetime, and they're doing it together. We can't get enough of watching that happen.