Pink's Latest Instagram Post Is A Nod To Multitasking Moms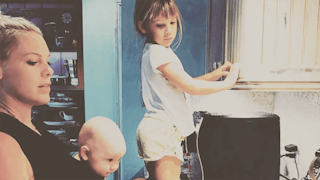 Image via Instagram/Pink
Because moms need to do what moms need to do
Pink may be a super famous celebrity and a woman we adore and admire, but she is a mom first — and moms have to get shit done. She is one of the few celebrities we feel may actually be sorta just like us — and her most recent photo she shared on Instagram may just be all the proof we need.
Pink shared a sweet photo of herself cooking and captioned it "Dinner time." In it, she's whipping up some food while son Jameson Moon watches intently from his baby sling and daughter Willow supervises from the counter next to her.
Her photo reminds us just how kick-ass we moms really are. Moms are strong, hard-working, multi-tasking forces of nature. Mothers do whatever it takes, usually with a kid or two hanging off them while they do it. In fact, it's typically when we are trying to do a million other things that our kids decide they need us the most. So, strap them on and plop them on the counter and let's get this thing done.
It seems Pink's two million followers agree:
"I don't know a friend of mine with kids who hasn't done this as well as myself. A Mommy has to do what a Mommy has to do to get things done."
"Love this so much! So many Mums can relate. Thanks for sharing!"
"Those are the luckiest babies in the world to have such a strong and inspirational mama like you."
"I remember those days! Gotta get dinner to feed the tribe, lil gal needs to be held… so ya wear them, throw on some tunes, dance, sing, cook! Good times."
Pink is one to share incredibly real (and extremely adorable) family photos on her Instagram account. She is always willing to share photos of her breastfeeding to help normalize it and show her baby's schedule comes first.
She openly admits her actual weight (something most women wouldn't do) to remind new moms to be easy on themselves and to worry about feeling strong, not a number on a scale.
And she proudly shares her daily routine, which sometimes means ignoring her kids and staring at her phone, because sometimes that's what happens.
Pink's photo shows us no matter who we are, when it comes to momming we are all really just the same.