Pinterest Bans All Weight Loss Ads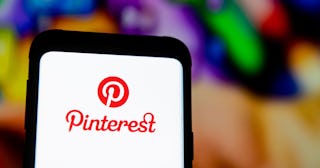 Mateusz Slodkowski/SOPA Images/LightRocket/Getty
In a policy developed using guidance from the National Eating Disorders Association, Pinterest has banned all weight loss ads from their platform
Digital pinboard site Pinterest has made the historic move to ban all weight loss ads from their platform.
The app already prohibits any content that includes body-shaming or dangerous weight loss products but now, they'll no longer allow ads that "discuss weight loss, reference BMI, or show before-and-after imagery or imagery that idealizes certain body types and features," says head of content Aya Kanai.
"Pinterest is committed to building a safe and inspiring space for all our users," they write in a new Instagram post. "That means looking at ways we can evolve our policies for the better. We want to champion content that celebrates body neutrality and acceptance, so you can focus on finding inspiration to create a life you love."
"This stance makes Pinterest the only major platform to prohibit all weight loss ads. It's an expansion of our ad policies that have long prohibited body shaming and dangerous weight loss products or claims," the company shared in a blog post. "We encourage others in the industry to do the same and acknowledge, once and for all, that there's no such thing as one-size-fits-all."
According to the blog post, content already banned from their platform includes:
Weight loss or appetite suppressant pills, supplements, or other products;
Before-and-after weight-loss imagery;
Weight loss procedures like liposuction or fat burning;
Body shaming, such as imagery or language that mocks or discredits certain body types or appearances; and
Claims regarding unrealistic cosmetic results
The updated policy will include the following:
Any weight loss language or imagery;
Any testimonials regarding weight loss or weight loss products;
Any language or imagery that idealizes or denigrates certain body types;
Referencing Body Mass Index (BMI) or similar indexes; and
Any products that claim weight loss through something worn or applied to the skin
The platform will still allow ads promoting a healthy lifestyle as long as they don't focus on weight loss. The guidance was developed in part with information and advice from the National Eating Disorders Association.
"The National Eating Disorders Association (NEDA) applauds Pinterest for taking a leadership position as the first platform to prohibit all ads with weight-loss language and imagery. NEDA is encouraged by this necessary step in prioritizing the mental health and well-being of Pinners, especially those impacted by diet culture, body shaming, and eating disorders. We are hopeful this global policy will encourage other organizations and companies to reflect on potentially harmful ad messages and to establish their own working policies that will create meaningful change," said Elizabeth Thompson, Interim CEO for the National Eating Disorders Association.
Pinterest tells Allure that the policy is in keeping with what users are already looking for. They note that Pinterest searches for "healthy mindset quotes" are up 13 times more since 2020 and searches for "body neutrality" and "stop body-shaming quotes" are up five times more.
Let's face it — absolutely no one signs on to Pinterest (or any social media platform) hoping to see body-shaming material and gross diet ads. This is definitely the right move and hopefully, other platforms quickly get in line.