Pioneer Woman's New Spring Collection Is Prettier Than A Flower Garden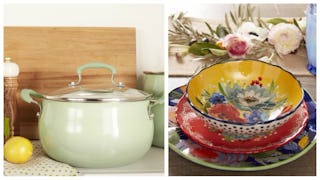 image via walmart.com
The Pioneer Woman has perfected the patterned cookware game
If you're struggling to get rid of the winter blahs, this may be exactly what you need to get ready for spring. Ree Drummond, everyone's favorite Pioneer Woman, just released a new, spring-themed cookware collection and it's positively dreamy.
Listen, being an adult isn't always all it's cracked up to be. But using pretty cookware is hands-down one of the best things about being a grown-up. And we all know Pioneer Woman doesn't mess around when it comes to pretty, patterned cookware.
Speaking of which, there are three different patterns in 2018's spring line including Celia, Spring Bouquet, and Luster, according to her site.
Behold, the most beautiful and affordable tablescape ever.
That makes me almost want to hang up my introvert persona for one night and actually find joy in having people over to my home.
Can't you almost feel the spring breeze?
Sure, the entire upper eastern quadrant of the United States is buried in snow right now — but soon enough we'll have our windows open and winter will be a thing of the past. Right? RIGHT?
Mint pots and pans. Shut the front door. If lavender-hued Le Creuset isn't quite your thing, surely this is.
See? Dreamy.
If you're into precise measuring and baking up Pioneer Woman-approved baked goods, just look at these adorable measuring cups and spoons. These beauts don't belong shoved in a drawer — they're begging to be displayed in your kitchen.
Oh what's that? I can't hear you over the sound of my drink-sipping and casserole baking.
Imagine all the delicious family dinners fresh from the grill served up on these gorgeous dishes.
I'm partial to blue dishes and glasses myself, so this Celia pattern is swoon-worthy.
If you're not ready to commit to the perfect pattern, rest easy. The "spring luster" plates in solid colors might be more up your alley.
All of this and more is available at Walmart. Now we can all pretend we reside on a picturesque ranch complete with its own lodge and industrial-grade appliances and that we're the perfect springtime hostess. Even if we're just dishing out some prairie-approved sloppy joes to the kids and calling it a day.