Olympian Sells His Silver Medal To Pay For A Child's Cancer Treatments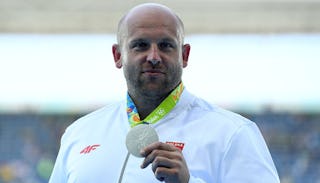 Image via Quinn Rooney/Getty Images
Piotr Malachowski donates his silver medal to help defray costs of boy's cancer treatments
Some things are more important than winning, or trophies, or medals — even Olympic silvers. Polish discus thrower Piotr Malachowski not only knows this, he proved it when he sold his medal away to help a three-year-old boy receive treatment for cancer.
According to the BBC, the 33-year-old two-time Olympic winner donated proceeds from the sale of his medal to young country-mate Olek Szymanski, who suffers from a rare from of eye cancer that affects young children. The donation enabled Olek to make the trip to New York City to have treatment for his retinoblastoma.
Malachowski, who also won silver at the games in Beijing eight years ago, has no regrets.
"My silver medal is worth a lot more than a week ago," says Malachowski. "It is worth the health of little Olek."
To that end, the Olympian put his medal up for auction and according to ESPN, it fetched a mighty, if unknown, sum. It was pulled from auction at $19,000 but as Malachowski shared on his Facebook page, billionaire siblings Dominika and Sebastian Kulczyk "declared their willingness to buy my silver medal for an amount which enables us to meet the goal set."
The biggest story in the aftermath of the Rio Olympics has been the shameful shenanigans of human douche-mobile Ryan Lochte, who may have won some medals but whose legacy will be his embarrassing behavior. Thank goodness then for people like Malachowski, whose story of selflessness should help us all wash the taste of chlorine out of our mouths.
It's an amazing sacrifice, to give up the symbol of one of your greatest achievements to help someone in need. After watching them for two weeks, I think we all understand the commitment and dedication it takes to qualify for the Olympics, let alone wind up on the medal stand. It's a lifelong pursuit, and not something to be taken lightly. Which is what makes Malachowski's act so meaningful.
As the athlete clearly understands, some things are even more meaningful than medals. Such as the health of a little boy who needs help getting the medical treatment he needs. Representing your country is a tremendous honor, and winning a medal is an achievement you'll never forget. Something tells me helping little Olek won't be something his family forgets anytime soon.
"Winning an Olympic medal is one of an athlete's life dreams. Of course, the most precious is gold. I did everything in my power to get it. Unfortunately this time I did not succeed."
That's okay, Piotr. By being so selfless, and helping an unfortunate young boy get healthy and himself have a chance to live up to the Olympic motto of "faster, higher, stronger," you've succeeded in ways that can't be measured in bronze, silver, or gold.