At Least 8 People Dead After Shooter Opens Fire On Pittsburgh Synagogue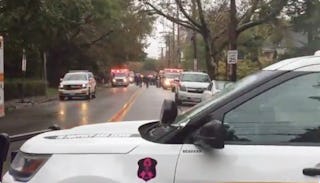 Image via Twitter
Police report that the shooter's in custody but are still advising area residents to shelter in place
Early reports of a mass shooting at a synagogue in a Pittsburgh neighborhood are saying eight people have died and three police officers were shot. The suspect, a white male, is in custody but police are still urging people to stay out of the area as it's under investigation.
The Chicago Tribune reports that the shooting took place at the Tree of Life Synagogue in Pittsburgh's Squirrel Hill neighborhood.
There was a bris scheduled to take place in the building this morning with services beginning for Shabbat around 9:45.
The most recent directive from Pennsylvania State Police asks residents to continue avoiding the area. Police spokesman Chris Togneri says there's no more information at this time because law enforcement is still working to clear the area.
Meanwhile, President Trump says the outcome would've been different with more guns. "If they had protection inside, the results would have been far better," he told reporters.
The synagogue is located at the intersection of Wilkins and Shady avenues in the Squirrel Hill neighborhood, which is the "hub" of the city's Jewish community. The shooter reportedly yelled "All Jews must die" as he walked into the building.
These details are horrific, but sadly, not terribly shocking in 2018 America. Our hearts are broken for the city of Pittsburgh and the Jewish community.
This article was originally published on