These Are The Victims Of The Pittsburgh Synagogue Shooting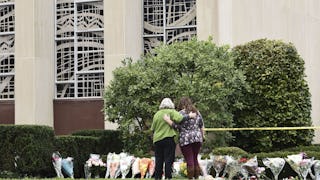 Image via BRENDAN SMIALOWSKI/AFP/Getty Images
The identities of the victims in the Pittsburgh synagogue shooting have been released
On Saturday morning, a man armed with an AR-15-style rifle opened fire in a Pittsburgh synagogue. He yelled anti-Semitic slurs and killed at least 11 people, while injuring six others. The victims' names have been released, and they include a husband and wife and two brothers.
The victims' ages ranged from 54 to 97-years-old. They were professors, doctors, dentists, and accountants. They were also beloved members of their community. 66-year-old Jerry Rabinowitz was "a trusted confidant" who offered kindness and wisdom, former Allegheny County Deputy District Attorney Law Claus wrote in an email condolence to the victim's family. 71-year-old Daniel Stein was a brand new grandfather.
"He was always willing to help anybody," his nephew Steven Halle told The Sun. "He was somebody that everybody liked, very dry sense of humor, and recently had a grandson who loved him."
This is the complete list of victims:
Joyce Feinberg, 75
Richard Godfried, 65
Rose Mallinger, 97
Jerry Rabinowitz, 66
Cesil Rosenthal, 59,
David Rosenthal, 54, brother to Cesil Rosenthal
Bernice Simon, 84
Sylvan Simon, 86, husband to victim Bernice Simon
Daniel Stein, 71
Melvin Wax, 88
Irving Yungner, 69
As of yesterday, three other victims – a 61-year-old woman, a 55-year-old man, and a 27-year-old police officer – were in stable condition. Two victims — a 70-year-old man and a 40-year-old SWAT officer — were in critical condition, according to CBS Local. One of the men was shot in the torso. One of the women sustained soft tissue wounds.
"Today, the nightmare has hit home in the city of Pittsburgh," Pittsburgh Public Safety Director Wendell D. Hissrich said in a press conference. "It's a very horrific crime scene. It's one of the worst I've seen."
In an interview with The New York Times, Rabbi Marvin Hier, founder and dean of Simon Wiesenthal Center, warned that swift action against this horrific wave of anti-semitism needs to happen now.
"I'm afraid to say that we may be at the beginning of what has happened to Europe, the consistent anti-Semitic attacks," he said. "If it is not nipped in the bud, I am afraid the worst is yet to come."