Mom Thinks Of A Clever Way To Get A Message About Betsy DeVos To Her Senator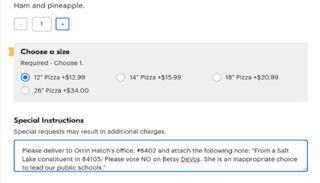 Mom of three called for weeks before sending the pizza
A 38-year-old mom of three sent a ham and pineapple pizza to her senator with a note about Donald Trump's nominee for education secretary, Betsy DeVos, after weeks of unanswered calls. Julia Silge attempted to reach Sen. Orrin G. Hatch (R-Utah) countless time before, but was never able to reach anyone in his office and only got through to leave a voicemail once. No one returned her call, so she got creative.
Silge – like many Americans – felt anxious about DeVos's final Senate confirmation hearing last Monday and wanted to share her opinions with her elected official. But since no one was picking up the phone or calling Hatch's constituents back, Silge opened her GrubHub app and ordered a 12-inch ham-and-pineapple pizza for the senator, the Washington Post reported. She asked that the following note be attached to the box: "From a Salt Lake constituent in 84105: Please vote NO on Betsy DeVos. She is an inappropriate choice to lead our public schools." She even added a $10 tip for the worker's extra effort.
It was a genius move by the Utah mom. Is there a way we can sign up for all communications to be sent as a note attached to pizza? Who doesn't love pizza? Apparently, politicians don't. "I am sad to report that my senator's office refused delivery of the pizza," Silge tweeted. Despite the delivery person calling to confirm the address with Silge, when the gift made it to the Senator's office they refused it. A security officer called Silge and said, "I have gotten a call about a suspicious pizza." Hatch's office supposedly called the police and reported an unauthorized pizza delivery. You don't staff your office to handle calls from constituents, and now you turn away their pizza? Worst. Politician. Ever.
"I definitely had like an, 'Oh, what did I do?' moment when this person was calling me," the mom who works in data science shared. "Since it was not actually a threat of any kind and I had not actually broken any rules, there were no ramifications." Um, yeah, we'd hope so. There's more important things for our politicians to worry about than an awesome lady sending them a pizza. For example, a highly unqualified person being nominated to run our school system. The senator's spokesman told reporters they saw the pizza saga unfolding on social media. Okay, so, time to tweet but no time to return calls to parents? Got it.
Someone from Hatch's office eventually filled the senator in on the content of Silge's note. "I wanted to communicate that I was not in favor of this," she explained. "As someone who represents me, I wanted him to know." Silge said she's not usually politically active but with three kids in Utah public schools, the mom was concerned after she watched DeVos's confirmation hearing in January. Weren't we all? Apparently not Senator Hatch. His office wouldn't confirm how he plans to vote, but he's done interviews praising DeVos despite the overwhelming evidence that she's a terrible candidate for the job.
The Senate is scheduled to vote on DeVos's nomination today. Democrats spoke out against her throughout the night Monday in an attempt to convince more Republicans (two have said they'd vote against her) to vote for the wellbeing of America's children. You'd think it'd be an easy call considering how much experience she lacks and how many education experts have pleaded with politicians to pick someone else.
But, DeVos, like Silge's pizza choice is contentious. "I personally am a fan," the mom said of her ham-and-pineapple pizza. "It turns out this was a very controversial choice that I made. Much like Betsy DeVos is a controversial, divisive choice."