PJ Masks: My Kids Are Obsessed, And I Know They Are Not Alone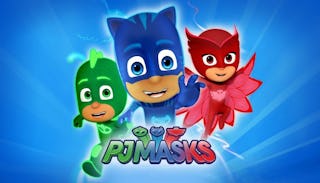 Entertainment One
"Who goes into the night
So they can save the day? Who are these heroes To show you the way?"
You're welcome for that earworm.
If you know what comes next, and you couldn't help but sing along with "PJ Masks, we're the PJ Masks…" then your kids are like mine and totally obsessed with Catboy, Owlette, and Gekko.
I have three kids: two boys, one girl. They have assigned characters. Sometimes they turn on me at bedtime, and yell things like, "Never, Luna Girl!" Occasionally, their dad is "Romeo."
The baby has been assigned as Gekko, and he typically brings up the rear, following along wherever his brother and sister may lead him on their adventures.
While I typically find exactly zero entertainment in children's television programming, I fully support their PJ Mask habit. It's not often that all three of my kids — ages 7, 4, and 1 — can find a common interest that truly captures them all and encourages imaginative play when they are away from the screen. But here it is.
If your kids are anything like mine, then they will appreciate some of these treasures as well.
And last but not least, pajamas featuring the entire cast. (Ignore that bogus "boys" label. These are for everyone.)
"'Cuz bedtime
Is the right time To fight crime!"
Sorry!
This post contains affiliate links, which means we receive a small portion of the sale if you make a purchase using this link.