Here's 10 Ways To Teach Your Kids How To Be A Superhero For #NationalSuperheroDay
by Scary Mommy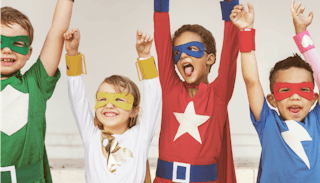 Rawpixel / iStock
National Superhero Day is Friday, April 28, and our favorite Disney Junior heroes, PJ Masks, are helping families celebrate with their Official Hero Celebration Kit. Before the fun and caped activities begin, why not talk with your preschooler about how they can be a real-life hero every single day.
Here's 10 ways to teach your kids how to be a hero with a lot of inspiration from our favorite bedtime hero trio Catboy, Owlette, and Gekko.
1. Treat Others the Way You Want to Be Treated
The first rule of being a superhero is to be kind. Kindness takes strength, so flex those muscles and give out hugs instead of shoves.
2. Everyone Needs a Cheering Section
You can be strong on your own, but people are stronger together. Share, laugh, and lend a helping hand to support the ones you love. Even superheroes have a squad of friends who have their backs, and you should too.
3. Let It Be
Sometimes friends have to find their own way. While superheroes are stronger together, it's okay to let your friends figure out their own paths.
4. Know When to Listen and When to Speak Up
A superhero knows when to lead and when to support. Sometimes it's better to listen rather than speak up.
5. Everyone Has Talent
Just like Connor, Amaya, and Greg who turn into their PJ Masks alter egos Catboy, Owlette, and Gekko at bedtime, superheroes all have superpowers. We call these talents though. Everyone is good at something, so find what you're good at and let it shine.
6. Be a Helper
Whenever a person is in trouble, lend a helping hand. If someone falls, help them up. It doesn't matter who they are. Even small acts of kindness are a big deal.
7. Second Place Isn't Losing
No one is the best at everything, and you don't have to be first to be a winner. Everyone contributes in their own way. Try, have fun, don't worry about perfection.
8. Keep Your Cool Like a Cucumber
You can't always control situations, but you can control your reactions. By letting someone else make you so angry you can't stop thinking about how they hurt you, you give that person power. Choose how you want to react — with words, action, or dismissal — and you'll be the superhero of your emotions.
9. Work Together
Don't forget to look back, and make sure your friends are with you. If not, wait for them. Remember heroes are stronger together so hang back, don't rush, and work as a team.
10. Most of All, Believe in Yourself
It's the hardest part of being a hero, but you can do it. Believe in yourself, and you'll do great things!
Watch PJ Masks daily on Disney Junior and Disney Channel, and find super fun games and other activities for your little heroes at www.pjmasks.com!
This article was originally published on