Planned Parenthood Launches $45M Campaign To Defeat Trump And Flip The Senate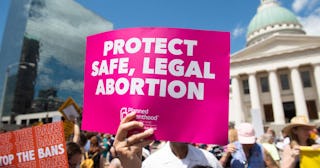 SAUL LOEB/Getty
Planned Parenthood just announced a major campaign to defeat republicans in the coming year
Planned Parenthood is ramping up the fight to keep all forms of women's healthcare safe and legal in the United States. Those plans boil down to two essential things: defeating Trump and flipping the Senate in 2020. The organization just announced a campaign in order to make it happen, which could exceed $45 million.
The investment will depend on plenty of grassroots organizations, among other programs. It's a big move, but the nonprofit understands what is at stake in the next presidential election and other key races. Under the current administration, a woman's right to a safe and legal abortion has been threatened over and over again. That's why Planned Parenthood is not backing down. It seems they are more motivated than ever to fight for women's rights and hold our leaders accountable.
"Next November, our very rights and freedoms will be on the ballot," said Kelley Robinson, executive director of Planned Parenthood Votes. "Already, we've seen Trump and his buddies in Congress and state legislatures do everything they can to strip us of our rights and access to health care."
The most important states the campaign will focus on are Arizona, Colorado, Florida, Michigan, Minnesota, New Hampshire, North Carolina, Pennsylvania and Wisconsin. That's because Trump needs to win those states to secure a 2020 win. Of course, Republican senators are also fighting to keep their seats in some of those key states, which will determine who controls the Senate. The year 2020 is going to be so crucial in terms of what happens to women's rights. So, it makes sense that Planned Parenthood is going on the offensive.
"To all the politicians working to take away our rights and undermine access to health care — you've been warned," Robinson said. "We have steadily been building our power over the last decade and we are ready to set the table on our terms. We are fired up, we are engaged, and we are going to win."
It definitely seems that the organization means business, but they will need plenty of support in order to follow through on their plans. Especially, because there have been so many setbacks for Planned Parenthood over the past year. They gave up millions in funding when leaving the federal family planning program when the administration began enforcing a ban on abortion referrals, which basically meant that doctors couldn't tell patients where they could go to get abortions.
Planned Parenthood is committed to a woman's right to safe and legal abortion access, but the organization does a lot more than that. They offer no and low-cost care for under-served communities, and provide STD testing, low cost birth control, well woman care, and more. They have over 600 clinics in the U.S. which have been threatened in recent years. These new efforts to turn the tide could have huge impacts on women's rights and access to what kind of care they can receive in the future.