Planned Parenthood To Open 50 'Wellbeing Centers' In Los Angeles High Schools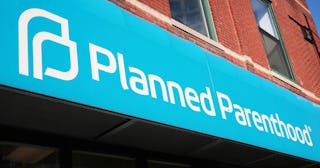 Scott Olson/Getty
Planned Parenthood will open 50 clinics inside Los Angeles high schools in 2020
As the Trump administration tries to shut down Planned Parenthood centers by forcing health providers to separate from abortion clinics, California has found a workaround by bringing sexual health clinics and education centers straight to the people who need it the most: teens. Planned Parenthood, in conjunction with the Los Angeles County school district and health department, will open 50 "wellbeing centers" in LA-area high schools before June 2020.
According to the The Washington Post, these mini-clinics will offer birth control and condoms, testing and treatment for STI's, education, and pregnancy counseling. It should be noted that none of the centers will offer abortion services. It's estimated that the clinics will help an estimated 75,000 teens. California, and Los Angeles specifically, has seen an alarmingly high rate of STIs in recent years, and the schools selected are primarily in low-income neighbors and far from similar health clinics.
Planned Parenthood will also train teens to be "peer advocates" who will educate and inform their classmates about safe sex, birth control, and relationships, while two public health officials will be stationed full time at each clinic for education and counseling services, and a Planned Parenthood nurse practitioner will visit the clinics once a week to provide medical services and treatments. Students will be allowed to leave class to visit one of the clinics and under California law, minors over the age of 12 can receive birth control, STD testing, or mental health counseling without parental consent.
Barbara Ferrer, director of the Los Angeles County Department of Public Health, told the Post that they called the clinics "Wellbeing Centers" because they hope teens go to them for education and counseling in addition to getting their birth control refilled. Ultimately, these centers are meant to help the students who are afraid to turn to the parents or lack the resources and knowledge to seek out a Planned Parenthood on their own. As one high school senior told the Los Angeles Times on condition of anonymity, "It being on campus — there was no excuse not to go."
Sue Dunlap, president of Planned Parenthood Los Angeles, said the response so far has been largely positive, but she's not worried about any potential backlash.
"I do anticipate, as this becomes public, we will have very normal and healthy debate around sexuality and schools and what it is to be engaged in family communication around a healthy adolescence," Dunlap told The Washington Post.
This program is currently only available in Los Angeles county, but as schools continue to cancel sex ed classes and others push for abstinence-only education, here's to hoping that other counties across the country follow in LA and Planned Parenthood's footsteps.