Planned Parenthood Launches New Program To Help Women Get Through Miscarriages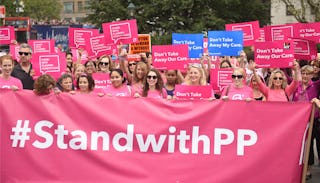 Image via Shutterstock
The organization provides medical treatment as well as counseling
Planned Parenthood has launched a new program that aims to help women who are or have experienced a miscarriage.
Earlier this week, Janie Faville shared her story about miscarrying with Scary Mommy. She wanted to raise awareness about how expensive miscarriages can be and how crucial organizations like Planned Parenthood are to society.
Since then, we've taken a deeper dive to further explore the Pregnancy Loss program that Planned Parenthood launched to help women dealing with miscarriages. "For many years, Planned Parenthood has been treating miscarriage because we see so many women early in pregnancy. But, we saw a need to formalize it and make sure we were providing miscarriage care consistently across the country," Dr. Sarah Traxler, Associate Medical Director at Planned Parenthood Minnesota, North Dakota, South Dakota told Scary Mommy.
In 2009, Dr. Traxler's branch of PP started determining how'd they formally incorporate miscarriage management. After much research, they launched in 2014, and have since spread to various locations across the United States and have regular conference calls to ensure their medical and mental health services are helping women.
"We're very proud of this program because all the counseling we provide is patient-centered. When a woman is experiencing a miscarriage, she has a few options and she can choose the one that's best for her," Traxler said. What makes the program unique is the focus on what the patient wants from her experience. "Does she want to wait and see if the miscarriage completes itself? Does she want to resolve the miscarriage right away? In those cases, where a woman wants immediate medical management, we discuss medication and surgical options to see what she's most comfortable with," Traxler explained. "For some women, while her miscarriage may not be a medical emergency, she is in emotional crisis. Many women who experience emotional distress during or after miscarriage, don't feel like they got the psycho-social support they needed in a hospital or ER setting. We take care of the whole patient. If a woman is experiencing emotional distress during her miscarriage, we can offer counseling and pregnancy loss resources."
There are some additional things that make PP's miscarriage program different than what a woman would find at a hospital. "If a woman comes in and doesn't realize she's experiencing a miscarriage, we can give her immediate care that day in the office. She won't have to wait for days if she doesn't want to – or set up a separate hospital appointment," Traxler shared. "Another thing to remember is that half of all pregnancies are unintended – so when a woman is experiencing a miscarriage from an unintended pregnancy we can offer her birth control, if she wants it, that same day. This is something she might not be offered in a hospital or operating-room setting."
For the medical professionals at PP, helping patients navigate the entire process is extremely important. "We can also help them navigate the insurance world and, for women without insurance, we have no- and low-cost options," Traxler said. "In any setting, whether she is at a Planned Parenthood clinic or not, a woman should know she has the right to compassionate care from a provider she can trust." I've always had insurance through my mom's job or my own, but have been a Planned Parenthood patient since I was 20-years-old. I didn't know, though, that patients who use their private insurance at PP locations are actually helping others. Dr. Traxler explained: "Another thing people don't realize is that when they bring their private insurance to Planned Parenthood, not only are they getting care from the leading experts on women's reproductive health, they're also supporting the organization financially and expanding our ability to offer no- and low-cost care to other patients."
For more information on Planned Parenthood services provided in your part of the country, visit www.plannedparenthood.org or call 1-800-230-PLAN.
This article was originally published on