Trump's Abortion 'Gag Rule' Forces Planned Parenthood Out Of Title X Funding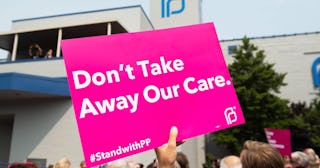 SAUL LOEB/Getty
Planned Parenthood will stop receiving Title X funds in order to avoid complying with Trump's abortion "gag rule"
Planned Parenthood announced today that it will withdraw from the federal Title X funding program that assists people who can't afford contraception instead of complying with the Trump administration's "gag rule" that stops the organization from providing abortion referrals to patients so long as they're receiving Title X funding.
The new rules regarding how federal funding is used for abortion care were issued by the U.S. Department of Health and Human Services earlier this year and they prohibit Title X grantees from providing abortion services or referring patients for abortions, except in cases of rape, incest, or medical emergency.
According to the LA Times, Planned Parenthood receives about $60 million in Title X funding yearly, but they're opting out of receiving it in order to provide abortion referrals to patients amid Trump's new rule. Planned Parenthood says more than four million people rely on Title X annually — and since 1970, the funding has provided "affordable birth control and reproductive health care to people with low incomes, who couldn't otherwise afford health care services on their own." The funding provided for a number of services aside from abortion care such as: wellness exams, cancer screenings, birth control, and STD testing.
Planned Parenthood's decision is the latest in an ongoing battle between those who support reproductive rights and those who don't, with Republicans advocating to eliminate all federal funding for abortion providers. The Trump administration required organizations receiving Title X funding to explain how they would comply with the "gag rule" and Planned Parenthood's choice was to skip the funding altogether if it meant giving incomplete care to their patients.
To which we say, bravo.
The U.S. Department of Health and Human Services says Planned Parenthood "is actually choosing to place a higher priority on the ability to refer for abortion instead of continuing to receive federal funds to provide a broad range of acceptable and effective family planning methods and services to clients in need of these services."
According to NPR, Alexis McGill Johnson, Planned Parenthood's acting president, says "The Trump administration has forced Planned Parenthood grantees out of Title X." Johnson went on to say, "The impact of the Trump administration's gag rule will reverberate across the country."
By reverberate, she means the wait for receiving services will be longer for patients and costs will go up.
In a letter to the U.S. Court of Appeals for the Ninth Circuit last week, Planned Parenthood expressed hope to remain in Title X but not receive funds during litigation, but now, DHHS has informed grantees that they would have to leave the program if they could not show "good-faith efforts" to comply with the gag rule. The organization expressed "deep regret" but says they "now have no option but to withdraw from the Title X program."
The Trump administration maintains that the policy will ensure that taxpayers are not indirectly funding abortions. As the administration is regularly proving to be fact-allergic, it should surprise no one to hear that the Title X program already stops participants from using the federal funding toward abortions.
This article was originally published on