Planter's Cheez Balls Are Back And People Are Freaking The Hell Out
by Julie Scagell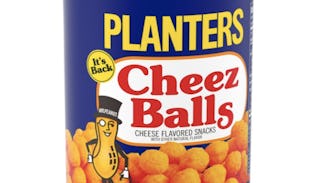 Image via Planters
Planters' Cheez Balls are your '90's childhood in a can
If you grew up in the 20th Century's last decade, you know the glorious deliciousness that was Planters' Cheez Balls. Peak 90s food, these cheese-dusted balls from heaven were a staple on store shelves forever — until they weren't. There was no warning, no heads up. No one knows what exactly happened but they disappeared into thin air like some kind of sick magic trick.
Until now.
The Kraft Heinz Co announced they would be bringing back their Cheez Balls And Cheez Curls for a "limited time" starting July 1 — dear Lord, all of my dreams have come true.
Mr. Peanut hinted at their return mid-June, tweeting that he'd put a can up on eBay for auction (the proceeds would go to a food bank of the winner's choice) and people understandably went bananas.
He then "hid" a few more around the internet for people to find and claim, causing a feeding frenzy level of emotions:
Now, before you say, "What's the big deal? I can get a giant canister of cheeseballs at my local grocery store," please know you are wrong. It's impossible to recreate the original Planters' Cheez Balls because they are snack perfection. There are no substitutes. Other balls can try to stack up. Other balls will fail.
If you've experienced the original Cheez Ball, you know how empty your life has been without them. One woman, Kim Butters, even organized a petition through Change.org to bring them back, saying, "The entire world is in a chaotic tailspin. There is evil and danger everywhere you turn. Have you ever stopped to ask yourself why? Have you ever considered that it's because you took Planters Cheez Balls away from us?"
"We heard many impassioned pleas for us to bring Cheez Balls and Cheez Curls back over the years and we wanted to give our fans a chance to reunite with their most-missed cheesy snack," Melanie Huet, Planters brand building head said. "We made sure out Cheez Balls and Cheez Curls still have the same delicious taste, airy texture and fluorescent color you know and love, so out fans can enjoy a nostalgic trip down memory lane with every canister."
You'll be able to buy Cheez Balls right before the holiday weekend on Amazon and Walmart.com, with more stores planning to carry them in the near future. But since Kraft hasn't said how long they'll be available, I'd consider this an emergency situation and highly recommend stock-piling them now while you can. You can never be too careful.
This article was originally published on